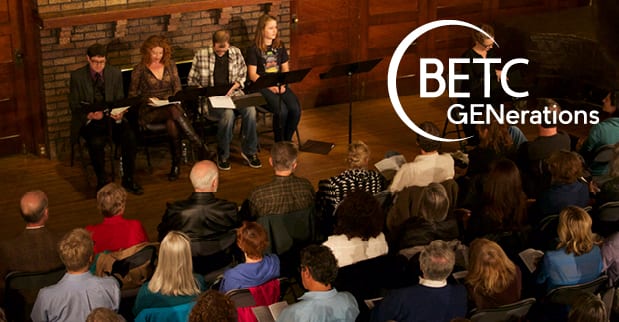 BETC's New Play Development Program
BETC makes an ongoing commitment to new theatrical work, from world premieres to playwright residencies. Our new play development program, Generations, features the work of parent playwrights with children under 18. The name comes from BETC's goals for the program: to welcome all generations into the theater to see new plays, and to empower playwrights to generate new work.
Each season, BETC selects one playwright through a national competition to join us in Boulder for a one-week residency.  During the residency week, the playwright works with a professional director, dramaturg, and actors to develop the selected script.  The week concludes with a public reading and post-reading conversation.
Past Playwrights in Residence
Season 10: Stephanie Alison Walker. Her play The Madres was also selected for the Ashland New Plays Festival, as a finalist for the 2016 Saroyan/Paul Human Rights Playwriting Prize, and as one of six plays selected for the National Showcase of New Plays in December 2016 by the National New Play Network. It will receive its world premiere production in Fall 2018, and is under consideration for an NNPN Rolling World Premiere.
Season 9: Simon Fill. His play Burning Cities was recently published in Proscenium Theatre Journal. It received a staged reading at the Pandora's Box 10th Annual New Works Festival in Long Beach, CA. His short play Night Visits won the Heideman Award from Actors Theatre of Louisville, where the play premiered in the Wintermezzo Festival. He was an A.S.K. American exchange playwright at the Royal Court Theatre, and his full-length play Post Punk Life received a month-long developmental production by Lincoln Center Theatre Directors Lab.
Season 8: David Valdes Greenwood. His play Full Code received its world premiere production at BETC in Fall 2016. He was a finalist for the ATHE Award for Excellence in Playwriting and was nominated for the Laurents/Hatcher Prize by the Huntington Theater Company. His play The Mermaid Hour was one of six plays selected for the National Showcase of New Plays in December 2016 by the National New Play Network.
BETC takes pleasure in supporting our parent playwright residents' writing careers post-residency, and advocating for production of their plays through connections within the National New Play Network.
2017 Generations Residency and Reading
In June 2017, BETC will welcome Anna Moench to work on her new script Birds of North America.  (See here for more details on this season's Generations winning playwright!)
BETC will present a public reading of Birds of North America in the Canyon Theater at the Boulder Public Library on Thursday, June 8th at 7 p.m. REGISTER NOW.
Season 11's Generations program is generously supported by Betsy and Albert Hand, the Sustainable Arts Foundation, and the Boulder Public Library.
2017-18 Generations competition information
Application guidelines for our next competition, open to all playwrights with a child 18 years old or younger, will be posted in June 2017. The submission deadline will be September 1, 2017. For other playwriting competition opportunities in the meantime, we suggest you consult:  www.playsubmissionshelper.com/blog