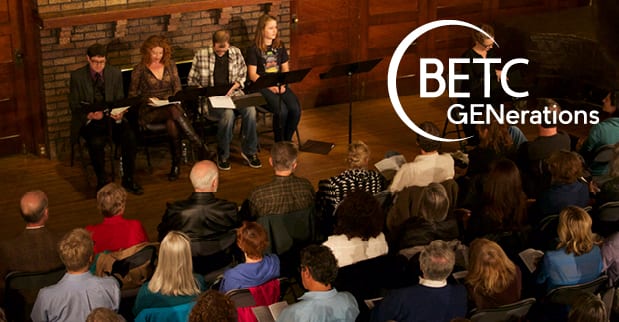 Now accepting submissions for our 2017-18 competition!
BETC's New Play Development Program
BETC makes an ongoing commitment to new theatrical work, from world premieres to playwright residencies. Our new play development program, Generations, features the work of parent playwrights with children under 18. The name comes from BETC's goals for the program: to welcome all generations into the theater to see new plays, and to empower playwrights to generate new work.
Each season, BETC selects one playwright through a national competition to join us in Boulder for a one-week residency.  During the residency week, the playwright works with a professional director, dramaturg, and actors to develop the selected script.  The week concludes with a public reading and post-reading conversation.
Past Playwrights in Residence
Season 11: Anna Moench. Her play Birds of North America will receive its world premiere right here at BETC in Fall 2017 as part of our 2017-2018 season. Anna's plays have been produced at WalkerSpace, the Old Vic, 59E59, Ensemble Studio Theatre, The Flea, Cohesion Theatre Company, NYU Tisch, Indiana University of PA, Dance Theater Workshop, Dixon Place, The Kraine, The Looking Glass Theatre, and FringeNYC. Anna is an alumna of the Emerging Writers Group at The Public Theater, Youngblood at Ensemble Studio Theatre, and The Jam at New Georges. Her upcoming projects include a commission for the Japanese American National Museum and East West Players in Los Angeles and a residency with Cohesion Theatre Company in Baltimore. She was recently named one of Hollywood's top 100 new writers on the 2016 Young and Hungry List.
Season 10: Stephanie Alison Walker. Her play The Madres was also selected for the Ashland New Plays Festival, as a finalist for the 2016 Saroyan/Paul Human Rights Playwriting Prize, and as one of six plays selected for the National Showcase of New Plays in December 2016 by the National New Play Network. It will receive its world premiere productions in Fall 2018, as an NNPN Rolling World Premiere.
Season 9: Simon Fill. His play Burning Cities was recently published in Proscenium Theatre Journal. It received a staged reading at the Pandora's Box 10th Annual New Works Festival in Long Beach, CA. His short play Night Visits won the Heideman Award from Actors Theatre of Louisville, where the play premiered in the Wintermezzo Festival. He was an A.S.K. American exchange playwright at the Royal Court Theatre, and his full-length play Post Punk Life received a month-long developmental production by Lincoln Center Theatre Directors Lab.
Season 8: David Valdes Greenwood. His play Full Code received its world premiere production at BETC in Fall 2016. He was a finalist for the ATHE Award for Excellence in Playwriting and was nominated for the Laurents/Hatcher Prize by the Huntington Theater Company. His play The Mermaid Hour was one of six plays selected for the National Showcase of New Plays in December 2016 by the National New Play Network.
BETC takes pleasure in supporting our parent playwright residents' writing careers post-residency, and advocating for production of their plays through connections within the National New Play Network.
2017-18 Generations competition information
BETC is now accepting submissions for our next Generations residency. In order to support the work of parent playwrights, BETC is seeking full-length plays written by a parent with at least one child under 18 years of age as of September 1, 2017.
The winning playwright will receive
a week-long workshop residency in Boulder, Colorado, with daily rehearsals, culminating in a staged reading of the selected script;
the chance to rewrite and revise during the week as part of the script development experience;
a stipend for travel and lodging;
a $500 prize; and
a $500 childcare stipend to defray the costs associated with childcare during the residency.
During the residency, the selected play will be rehearsed with a cast of professional actors, director, and dramaturg. The week will culminate in a public reading. The residency will take place in May 2018; specific date arrangements will be made directly with the winning playwright.
Competition submissions are due September 1, 2017. 
Entry Guidelines:
Plays must be in the English language. No musicals will be accepted. We will not reconsider scripts that have already been submitted to this competition in previous years. Scripts that have been produced by Equity or professional companies or that have been published are ineligible. Scripts may not be under option or scheduled for production or publication as of September 1, 2017. We will consider scripts that have had a workshop, reading, or academic production. BETC will negotiate an option on the winning play and have right of first refusal on the world premiere production. The winning play will receive full consideration for production in an upcoming season.
To enter our 2017-18 competition, please submit the following two files in PDF format by email to submissions@betc.org:
File 1: Cover sheet, containing within a two-page limit:
Contact information: name, phone, email, mailing address, and a paragraph bio for yourself and any other script collaborators.
A brief synopsis of your play (500 words or less)
A brief production history of the work (if applicable) including workshop development to date
Which 20 pages of your script you'd like us to read in our initial deliberations (e.g. "Pgs. 1-20")
File 2: A blind copy of your full script as a PDF file. Please do not include your name anywhere in the sample file. 
Each playwright is limited to submission of one script for consideration.  The application deadline is September 1, 2017. Our winning playwright will be notified by December 1, 2017.
Selection process:
We evaluate Generations play submissions in multiple rounds of consideration. We use a blind evaluation process for this competition, which is why we request "blind" copies with no name anywhere in the script file. The biographical info you submit will not be referenced during the selection process.
In our initial reading round, we read the first 20 pages of a script (beyond introductory materials), or a 20-page selection as specified by the submitting playwright. Script excerpts nominated by two readers are then passed on to the semi-finalist round, in which two readers read the full scripts and complete thorough reader responses. Highly regarded scripts become finalists which are then read by our full committee, who advise our producing artistic director in selecting the winning play.
FAQ's:
Because of the volume of submissions we receive, we do not provide feedback on submitted scripts during or after the competition, beyond confirmation that an initial submission has been received, and eventual notification of the competition winner.
Due to available program funding and staff capacity, we will not consider scripts from grandparents or others who are not currently custodial parents of a child 18 years of age or younger. We hope to be able to expand our new play development program to additional generations in future years, but at this time our program focus is on assisting playwrights with young families.