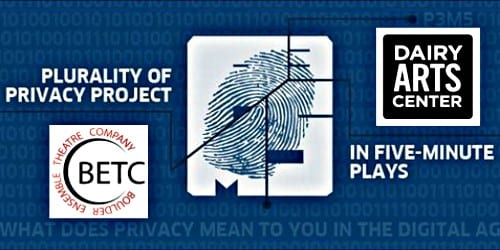 In January 2018, Boulder Ensemble Theatre Company and the Boe Theater will collaborate to present the P3M5 Project.
Explore the concept of privacy online and off, in plays and films from around the world!
In cooperation with the Goethe-Institut Washington, 15 major theaters across the US and Europe commissioned playwrights to write five-minute plays exploring the central question: "What does privacy mean to you in the digital age?" Each short play was also turned into a companion film. The results will be presented on stage and screen at theatre companies around the globe in 2017-18. BETC is the only theatre company in Colorado that will take part in the P3M5 Project.
The P3M5 plays explore the idea of privacy from multiple perspectives. Topics include social media use, religious freedom, body image, rights to our own consumer data, and our responsibilities to our digital neighbors.
Public performances will be at the Boe Theater in the Dairy Arts Center from January 11-21, 2018. Tickets will go on sale in fall 2017 for the public shows.
Public Panel on Modern Privacy:
On Sunday, January 14, we'll hold a special post-show event. It will feature local experts who work in social media, cybersecurity, big data, and school counseling. We'll look at how privacy issues affect adults and young adults as students, consumers, employees, and citizens of the digital age. More information available soon on how to take part!
High School Tour:
From January 15-19, 2018, BETC will tour a 45-minute production of selected plays and films from the P3M5 Project to area high schools. Each performance will be followed by 30-minute small-group workshops for up to 3 classes. The production-and-workshop cost is $500. Scholarships are available.  To book your visit, please contact Heather Beasley at heather@betc.org or by calling the BETC office at (303) 351-2382.
The Boedecker Foundation are generous supporters of the P3M5 Project.