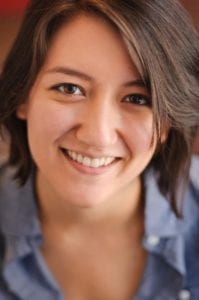 In June 2017, BETC will welcome parent playwright Anna Moench to Boulder, to work in residency on her new script Birds of North America. Her play was selected as the Season 11 Generations winner from a field of 86 submissions. In this delicately balanced play, while birding in their backyard over the course of a decade, a father and daughter grapple with loss, both personal and universal. Sometimes they lean on each other to survive. Sometimes they wound each other even more deeply. As they scan the skies, these close family members with distant views wryly note the consequences of their own habits and behaviors.
Anna's plays have been produced at WalkerSpace, the Old Vic, 59E59, Ensemble Studio Theatre, The Flea, Cohesion Theatre Company, NYU Tisch, Indiana University of PA, Dance Theater Workshop, Dixon Place, The Kraine, The Looking Glass Theatre, and FringeNYC. Her published plays are Backwards at the Speed of Light (Playscripts), The Forest for the Trees (Vintage Books), and A Polar Bear in New Jersey (Samuel French).
Anna's upcoming projects include a commission for the Japanese American National Museum and East West Players in Los Angeles and a residency with Cohesion Theatre Company in Baltimore. She is currently a second-year MFA playwright at UCSD and was recently named one of Hollywood's top 100 new writers on the 2016 Young and Hungry List.
Anna will be in residence in Boulder to workshop Birds of North America with the BETC Ensemble in early June. A reading of this play will be held on Thursday, June 8th at 7 p.m. at the Boulder Public Library. REGISTER NOW.
BETC's Season 11 Generations program is supported by Betsy & Albert Hand, the Sustainable Arts Foundation, and the Boulder Public Library.