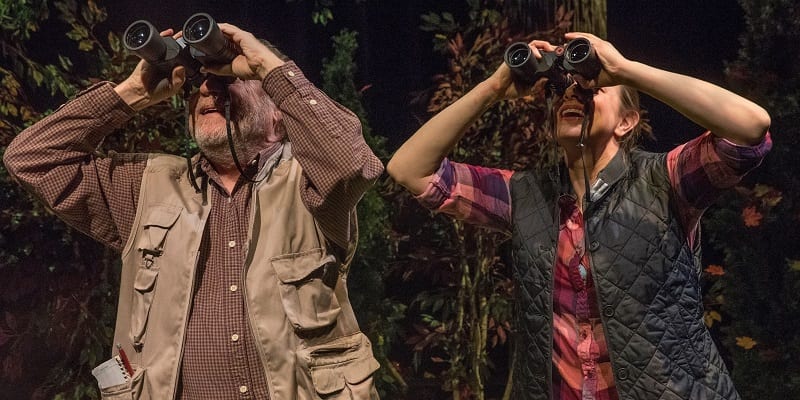 This Weekend: Birds of North America Opens at BETC
By Elisa Wiseman (Read the original.)
Bird-watching, family dynamics, and habitat destruction mingle in a unique play showing at the Boulder Ensemble Theatre Company through November 12.
They say that birds of a feather flock together. But a new play out of the Boulder Ensemble Theatre Company might make you re-think that.
Birds of North America, which premiered for the first time last week, is a timely, topical show about the changing environment. The narrative is told through the eyes of a father and daughter who attempt to bridge the gap in their relationship by bird-watching in their backyard.
"It's a small, family story, but very much an environmental piece," says Stephen Weitz, the producing artistic director. "[The playwright] didn't really want to write an 'issues' play, so she housed the things she wanted to say inside this story about the differences between people who love each other… It's a great way to get at a topical issue without beating people over the head with it."
Written by Maryland native Anna Moench, the story takes place over a 10-year period—with the two characters, played by BETC cast members Lindsey Pierce and Chris Kendall—chatting in the family's backyard while bird-watching. According to Weintz, the playwright Moench had a personal connection to birding because her father was an avid birder himself. The show explores the emotional relationship that humans have with their atmosphere, and how different generations may engage with nature differently.
"[Moench] started finding some literature with people talking about climate change and equating the experience with patterns of loss, the patterns of grief we go through when we lose a person," Weitz says. "There's a body of writing that as the world changes around us, we experience a sense of loss about the world we knew, like animal activity, the way flowers are disappearing… It's the emotional experience of climate change, not just the facts and logic, and the science."
The play, which Weitz describes as both full of humor and heartbreak, also tackles family dynamics in a way that, he says, just about anyone can relate to.
"[It's also about] the relationship these two characters have as they connect—or fail to connect—with each other. That's what conveys the emotion of the piece," he says. "It really is a universal story for anybody who has parents, and anybody who has a child, which is pretty much everybody."
The show came to Boulder via the BETC Generations new play competition, now in its fifth year. Generations is an initiative to engage with parent playwrights who have children under the age of 18, Weintz says, because artists with young kids are often at odds with their work. BETC wanted to give those artists precedent and an opportunity to be recognized as both playwrights and parents.
The initiative is also part of the company's efforts to make the Boulder and Denver areas better known as hubs for new play development. Moench won the competition in 2016, beating out around 100 other submissions. Her show was appealing, Weintz says, both for its artistic foundations—strong characters, interesting conflicts—and because of the timeliness of the issues.