by Rebecca Remaly, Managing Director & Ensemble Member
One challenging, fascinating aspect of producing a show is creating the central marketing image. I started the journey for The Revolutionists back in February 2017.
As a theatre artist, I want to dive deep into the heart and head and nuances and themes of the play. That in itself does not a great marketing image make. This is a lesson I've learned the hard way over the years.
As a managing director, I want to sell tickets, but not at the expense of duping audiences into thinking the play is something it is not. Also a lesson learned.
I recently watched a TED Talk by Benjamin Zander. It's fantastic: watch it. One of the key takeaways for me is the mindset that he possesses: everyone loves classical music, it's just that 97% of the people haven't discovered their love for it yet. Amazing to think that, perhaps, everyone loves theatre, it's just that most people haven't realized it yet. Like a heretofore half-empty glass, suddenly I'm thinking I have a lot more to work with than I previously thought.
Of course, in order for most people to realize they love theatre, they first have to go to see theatre. Which means they have to be compelled to get a ticket. Which means they have to see something that compels them. Back to that pesky show image.
The Revolutionists by Lauren Gunderson. Set during the French Revolution but written in contemporary style. Hilarious, witty, surprising, dangerous, heart-breaking, heart-warming, inspiring, and really entertaining. Awesome. I've got great material to work with. Ideally, the image encompasses all of that. Piece of cake, right? I mean…
Then I remind myself that many people are willing to plunk down their hard-earned cash for entertainment only when they feel really sure that it will be well worth it. In other words, they want to have some level of confidence or knowledge of the show (movie, concert, fill-in-the-blank) before making the ticket purchase.
So, what would most people be familiar with already, what would make them confident it's money well spent? It's set during the French Revolution! Wait, no. Boring. (Disclaimer: You, reader, may not be most people. You may think the French Revolution is a fascinating subject. Awesome! Again, though, you're probably not most people.) It's by Lauren Gunderson, currently the most produced living American playwright! Wait, no, if you're not already into theatre, that's not likely to mean much.
To the characters in the play. Olympe De Gouges, the central figure in the play (and portrayed by yours truly) was the most prominent female playwright of her age, as well as a socialite and quite the party girl; she became a vocal activist for women's rights, and was executed for speaking her mind. But no one's heard of her (except you, dear reader, of course), so they certainly won't recognize her.
Charlotte Corday! The young everywoman who assassinated the Jacobin leader and radical journalist Marat in an attempt to save thousands upon thousands of innocent countrymen. Yeah, that's pretty bad-ass, but that doesn't sound like a comedy.
Oh, there's also this character in the play, perhaps you've heard of her. Marie? Antoinette? Yeah….let's do that. Most people have heard of her; most people probably know — or think they know — about her. Let them eat cake, and enormous wigs and hats, and that time she was beheaded.
We already had our Marie, ensemble member Adrian Egolf. I worked with our costume designer, ensemble member Brenda King, to determine Adrian's look. Cynthia Settje, owner of Redthreaded, designed and built this custom corset just for the shoot. I was stunned by the beauty and detail of the piece. She added paniers on the sides, too, an added and unexpected bonus!
And now we come to Saturday, April 22nd. To straddle that balance between contemporary and period looks, we used Adrian's own gorgeous dark hair. Vintage Hairstylings started working with Adrian at 8:30 in the morning. Three hours later, her hair and makeup were beautifully finished.
Adrian, Brenda, Michael Ensminger (our magnificent photographer), and I all met around noon, starting playing Beyonce and Britney Spears, and got to shooting. I got a whole coconut cake from Steuben's. The leftovers were delicious. I brought along a large knife, good for cake cutting and even better for cake stabbing. We tried a lot of different options. And this is what we settled on.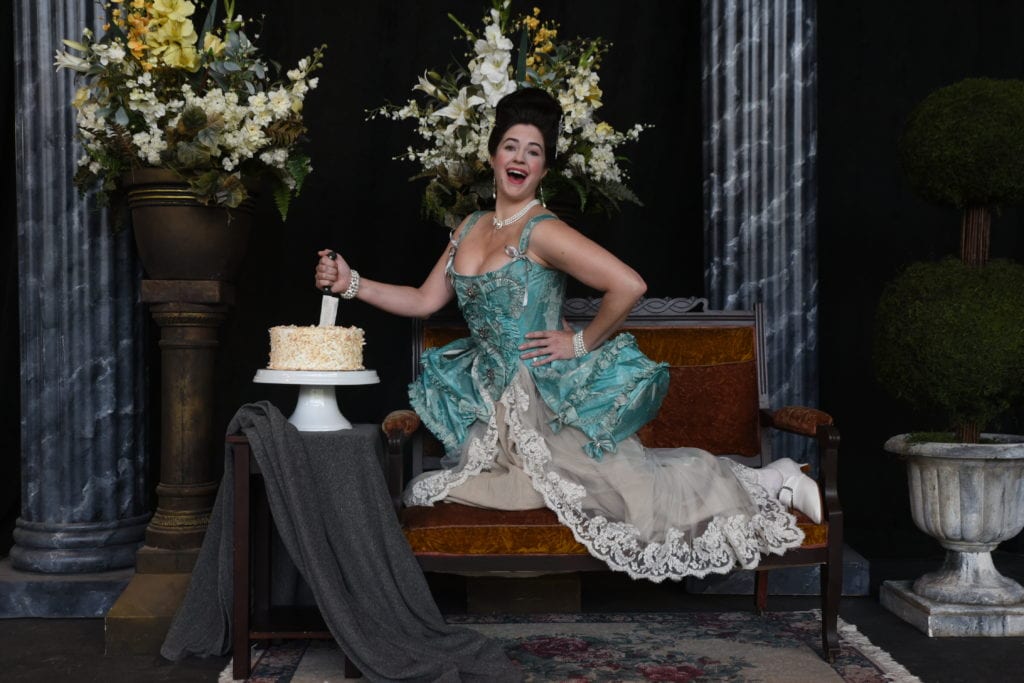 So much magic and talent had already gone into this project. And then: our graphics illustrator Brian Kolodziejski went to town. And this is the result:
 And that's just the work that goes into the poster for the show. Exponentially more work goes into producing the actual show (as you already knew, dear reader). Most people might not know what goes on behind the scenes. But I'm determined to find ways to get most people in the door, in their seats, and started down that beautiful, human journey that is theatre.