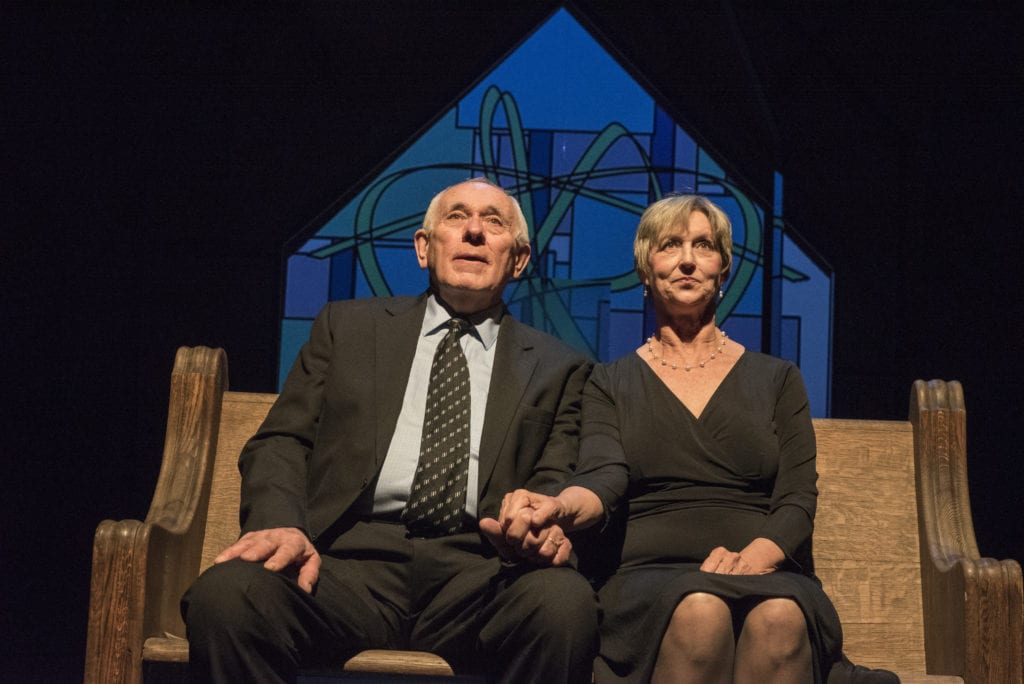 Going to a Place Where You Already Are
By Bob Bows, for ColoradoDrama.com (Read the original.)
In the world of living things, death is the ultimate mystery, and it's a question mark that cuts across species; for example, the ongoing social media video memes of various mammals performing rituals, or exhibiting grief, around a deceased body, sometimes that of another another species. Human invention of and participation in such rituals, as well as debates—as to whether consciousness continues after the physical body is no longer functioning—is prevalent in all cultures.
In Bekah Brunstetter's newest drama, Roberta (Anne Sandoe), a longstanding atheist, undergoes a near-death experience and begins to question her position on life after death, much to the chagrin of her husband, Joe (Jim Hunt), under whose influence she originally came to dismiss such notions as "myths."
Roberta and Joe's relationship, a second marriage for both, and their previous lives, send ripples throughout the story, touching Joe's granddaughter, Ellie (Anastasia Davidson), Ellie's friend, Jonas (Trenton Schindele), and Roberta's deceased child, as well as an angel (James O'Hagan Murphy).
The play begins with Roberta and Joe sitting in a pew at an acquaintance's funeral. Sandoe and Hunt establish an easy rapport, filled with humor, including some priceless barbs, as atheists taking in an assortment of standard religious phrasings delivered in absentia by the disembodied voice of the preacher. Their musings drift into some poetic observations on aging and its infirmities, before returning to Joe mocking the preacher's notion of heaven, while a memory of Roberta's brings her to tears. Thus, the central conflict of the play—materialism versus spiritualism—is introduced, with a near-death experience providing the fodder. Sandoe and Hunt keep Roberta and Joe's relationship connected, even as things get testy, as one would expect from a couple who have been together quite some time.
Brunstetter goes to town contrasting Roberta and Joe's connection with that of two-generations-removed Ellie and Jonas, whom we meet as they awaken from having spent their first night together in bed: with their visceral and magnetic physical attraction coming up against Ellie's shock at her own behavior and the immediate complications of the situation. Davidson's feisty and manic Ellie is a chimera of unpredictable, awkward, and honest facets that are all revisted when she goes to visit her adopted grandmother. When she returns home, the twin truamas of mortality and a fire serve as catalysts for a wonderful catharis, beautifully rendered by Davidson. Jonas is a stand-up comedian, and Schindele's astute timing in delivering a series of satirical and serious punchlines, as well as a few other antics, work their way into Ellie's subconscious. Jonas' sense of humor was clearly born as a reaction to an early-life trauma, and the later trauma of his own form of "near-death experience" tests him, but it is also the event that brings him to a new and promising life. Schindele deftly holds the tension between these disparate emotions.
Murphy appears as four different characters—Angel, Man, Doctor, and Checkout Boy—each unique, but bearing metaphorical, and at times magical, connections in the effects he has on the other characters. Indeed, it is Murphy's beneficent manner that bridges the material and spiritual aspects of the story and the consciousness of each of these realms. Whether we believe in angels or not, Murphy certainly makes us wish it were so.
In director Rebecca Remaly's fine-tuned rendition, the set (Tina Anderson), lighting (Andrew Metzroth), sound (Jonathan Holt Howard), and costuming (Brenda King) provide a remarkable backdrop and subtext for two concommitant worlds.
While the playwright does not spell out the meaning of the title, we find that the implications which we derive from it, in the context of the story, are remarkably similar to those of Quantum Theory, specifically the notion of Singularity—both the moment in time before there was time and the state of space before there was space (i.e., a point, or the 1st dimension, using definitions from four-dimensional geometry [topology]). When the concept of Singularity is applied to consciousness, the result is a state in which unity is the only awareness. Since, by definition, Singularity contains everything that ever was, is, or will be in the Universe, then our consciousness necessarily has continuity at this level, before "we" enter our body, as well as during the life of our body, and after we leave it. Of course, while we are in our body, there are various forces, including the ego and our environment, that suppress our awareness of total unity. This is why various spiritual masters have introduced meditative practices, to help us "remember" our individual connection the whole. The beauty of Roberta's journey, and the central catharsis of the play, is that she remembers, without saying so, but as evidenced by her choices.
Ultimately, the dichotomy presented by the playwright, between spirituality and materialism, is also reconciled by Quantum Theory, just as Werner Heisenberg predicted:
"Perhaps it is not too rash to hope that new spiritual forces will again bring us nearer to the unity of a scientific concept of the universe."1
Footnote:
1Heisenberg, Werner, Philosophic Problems of Nuclear Science, Fawcett Premier Books, New York, 1952, p. 28.