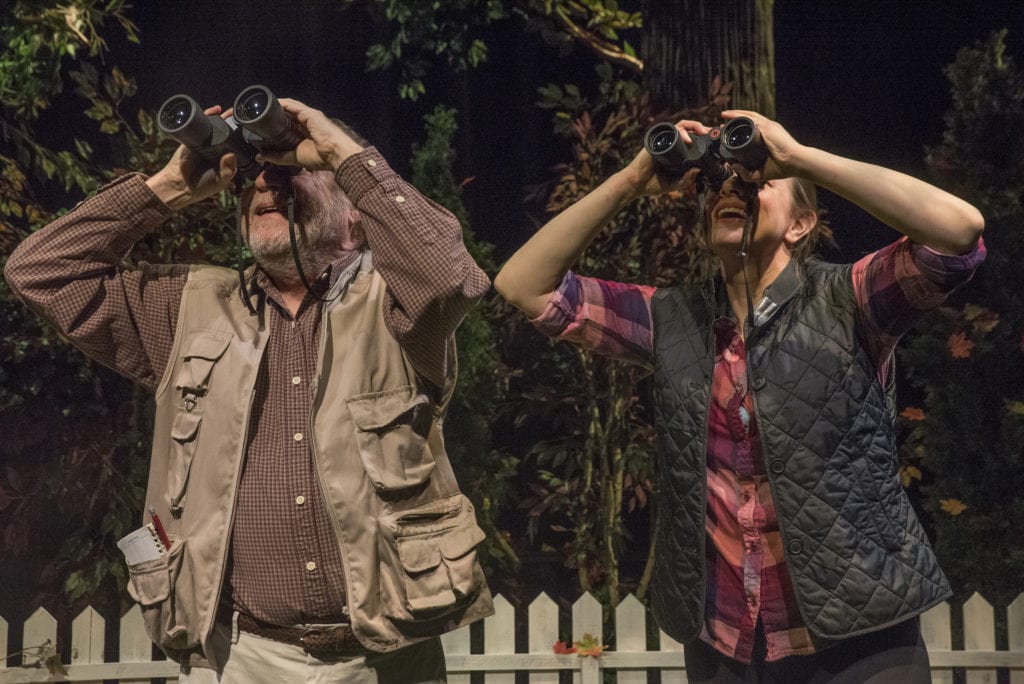 Theater review: Patience pays off in the aching "Birds of North America"
By Lisa Kennedy (Read the original.)
The fall foliage in Birds of North America will outlast Colorado's own blast of color by a few weeks. Scenic designer Tina Anderson's set — a small shed off to one side, a brace of trees behind a picket fence, a stump or two, a lawn — makes an eloquent, if hushed, third character in the Boulder Ensemble's world premiere of Anna Moench's perceptive father-daughter play (at the Dairy Arts Center through Nov. 12).
If the onstage seasons resonate with audiences (thanks in part to the dappled work of lighting designer Katie Gruenhagen) so, too, should John and Caitlyn's at times bristling, at times gentle, always complicated visits.
Autumn after autumn, father and daughter stand, binoculars around their necks or at the bridges of their noses, noting the various birds of the play's title and talking, needling, agreeing (or not) to disagree and trying to make sense of each other.
Actors Chris Kendall and Lindsey Pierce imbue the pair with credible hurt and a palpable desire to connect. Kendall finds moments of plain-spoken humor. Pierce delivers an adult child's well-honed sense of the ironic.
Although the play is set in the fall, communication between the two can be tough sledding.
As the play opens, Caitlyn is a third of the way through her first novel. She's also copy editing at a politically conservative website — which rankles her father to no end.
John's a medical researcher who, for more than two decades, has been working on a vaccine for HIV prevention. Caitlyn's mother is a doctor and the family's economic engine. There's also Caitlyn's brother, Jeremy. We meet mother, sibling and other  characters via Caitlyn and John's conversations.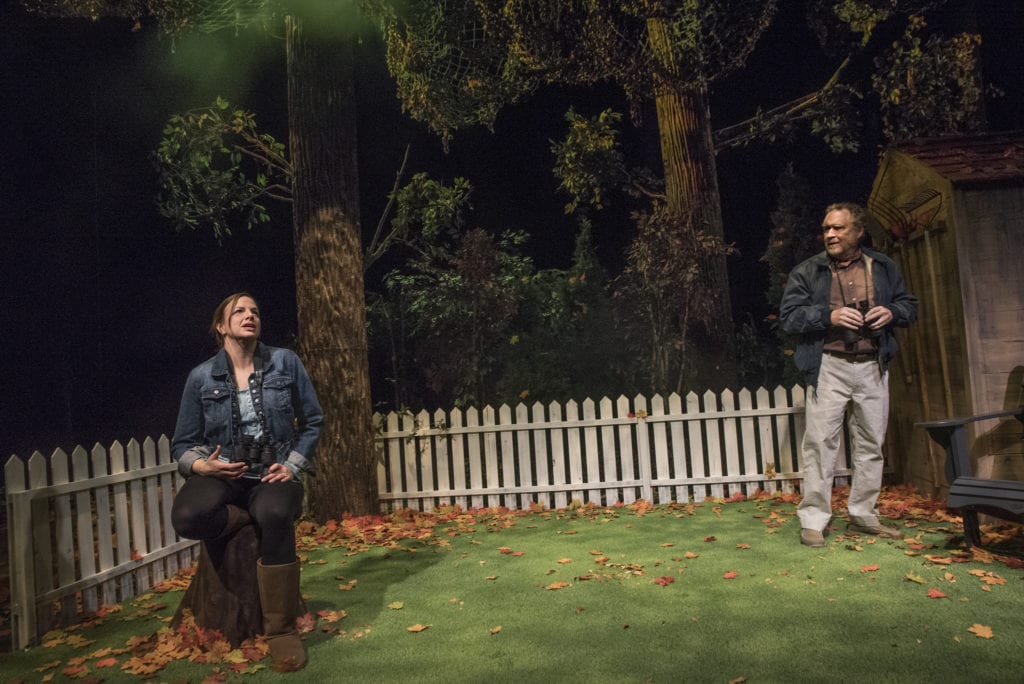 Family can provide a relatively safe place for the hashing out of political differences. Of course, there's always the possibility of lashing out.
"I don't understand you," John tells thirtysomething Caitlyn at one point in the 95-minute show, performed without intermission. "No, you don't," she responds. If John doesn't quite appreciate the heft of that reply, the audience should.
Birding, like fly fishing and other versions of patient witness, allows for musing and silence. With a poetic awareness, director Stephen Weitz pauses between the duo's gatherings, inviting the audience to reflect on a bittersweet observation or offering us respite from the pair's tensions. John and Caitlyn's journeys are tracked by what they say as well as the lulls that take place in that suburban Maryland backyard. Relationships are touched on; marriages announced and parsed; miscarriages revealed and revisited. Generational class anxieties, climate change and personal/political ethics elbow their way into the yearly conversations.
Theirs is a minuet of defensiveness about and disappointment in their own lives and in each other. "(B)ecause you don't agree with the politics of this website," Caitlyn counters in a particularly prickly scene after her fathers calls her "a mercenary." His retort:  "You don't agree with the politics of that website."
As their voices begin to soar in frustration, a unexpected wrench of American Redstarts passes overhead abruptly, ending their argument with a glimmer of wonder.
Sound designer Jason Ducat captures the flutter, chirp, rat-a-tat peck. John and Caitlyn listen and peer out or upwards and in one instance, downward, in search of a peeping fledgling cowbird.
Winner of the Boulder Ensemble's Generations new play competition in 2016, Birds of North America reminds us that plays don't have to light a match to the pyrotechnics of dysfunction to deliver a tale of strained, aching affection.
The play doesn't make clear how Caitlyn's values came to seemingly diverge so much from her parents. Laziness (John's answer) or economics alone aren't satisfactory answers. And when a shocking gesture comes late in the play, although the anger that precipitates it is real enough, it feels false. Even so, Moench charts the intimate patterns of her characters' thoughts and feelings with a promising elegance.