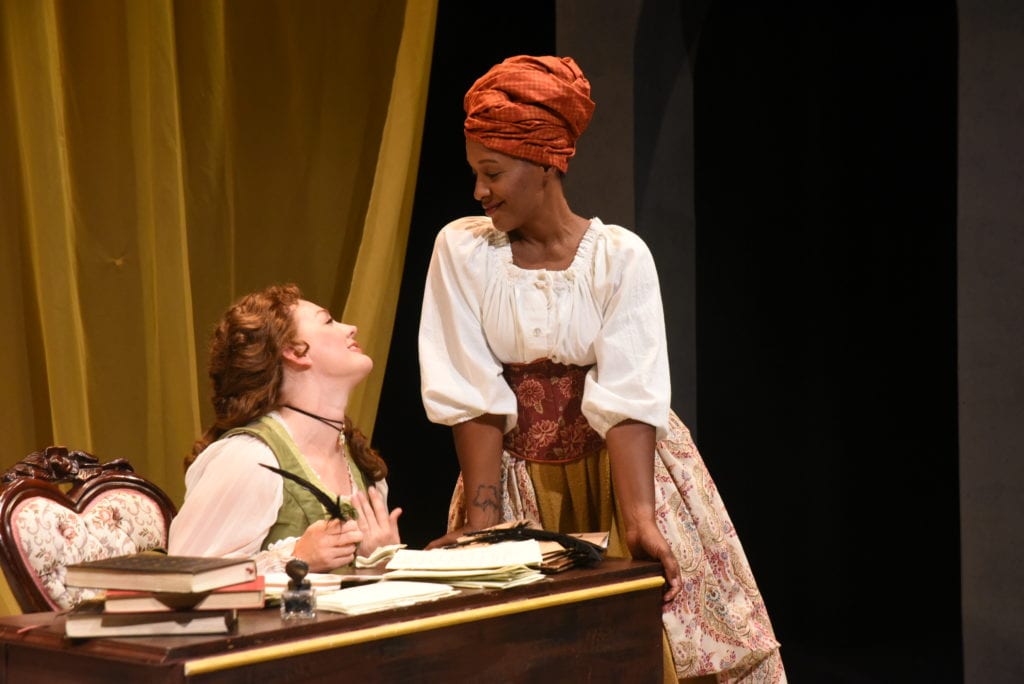 by Lisa Kennedy (Read the original.)
"The Revolutionists" in Boulder sets the bar for ensembles this theater season
To say "the playfulness is the thing" of "The Revolutionists" would be too glib. After all, the backdrop to Lauren Gunderson's play about play-making is the darkest hours of the French Revolution, the Reign of Terror.
Louis the XVI has been beheaded, as have thousands of French citizens during an ideological cleansing. Yet this comedy about playwright Olympe de Gouges and three unlikely allies delivers so much pleasure with such wit that the tragic dances around the play's edges.
Until it doesn't.
The historical comedy opens the Boulder Ensemble Theatre Company's 12th season. While it's far too early in a promising Colorado theater season to state you'll not see a better ensemble playing off each other with such fine aplomb, the bar has been raised.
"The Revolutionists" underscores some of the reasons the versatile, prolific Gunderson has become the most produced playwright in regional theater. Director Allison Watrous and her quartet of actors respond to her nimble, impressive gifts with breakneck pacing and lasting insights. The acting is sharp; the dialogue so fleet you may miss a crack or poetic turn. Fear not; there's plenty more where that came from.
Rebecca Remaly portrays de Gouges, the French author, political thinker and abolitionist — of a sort. Her "Zamore and Mirza, or the Happy Shipwreck" (briefly performed in 1789) engaged the problem of slavery from the first-person perspective of a slave.
Rife with "meta" feints and parries, "The Revolutionists" interrogates art and the clime in which it arises. As the comedy grows darker ("Madame Guillotine" claims her trophies), the unabashed feminist wrestles with her craft but even more with her fears and her role as an artist during a time of roiling and radical change. To her credit, Gunderson can be tough on her avatar. ("I'm not brave … I'm just loquacious," de Gouges admits.) Remaly tempers the artist's solipsism, making believable her social justice ambitions.
Free woman Marianne Angelle acts as de Gouges's friend, editor, conscience. Jada Suzanne Dixon whets the play's sardonic edge. This is slightly complicated (since people of color often provide the "reality check" in stories, in culture) but it also feels true to Marianne's experience of slavery and efforts to end it in the French colony Saint-Domingue (later Haiti).
So, yes, Marianne — the only composite character — provides a dose of realness. A good thing, since Adrian Egolf's portrayal of Marie Antoinette is so wonderfully fanciful.
There's something mildly Glinda the Good Witch — circa "The Wizard of Oz," not "Wicked" — about Marie. She sort of floats into the writer's parlor with her silvery wig and her twee mannerisms. Is she a good queen or a bad queen — or a royal who got a bad rap from history? Egolf's delightful turn is also touching. And since this is a play about play-making, a problem Marianne brings up is one that the audience — charmed and tickled by Marie's loopy insights —  might be thinking, too.
"She's not worthy, Olympe," say Marianne. "She so doesn't belong with us. She is not a revolutionist."
If Marie wafts, Charlotte Corday bursts into the writer's room. She's in need of a line of dialogue, something befitting the act that will land her in front of a tribunal and then on the scaffold: the assassination of the journalist and Jacobin leader Jean-Paul Marat. Although Corday came from a lesser noble family, as portrayed by Máire Higgins, she evokes a more earthy citizen carrying out an uncommon political act, one that will nudge a nation toward a rethink — for the good and the repressive — of the role of women in France.
Tina Anderson's set is elegant in its efficiency. With its red velvet settee, a writer's desk, a raised platform upstage bound by long, sheer curtains, there's plenty of room for grand entrances and dramatic — mortal — departures.  Much like costume designer Brenda King, whose handiwork is gorgeous, the cast and entire team have delivered a production that is intricately woven.
"The Revolutionists" is as beautiful in its pleasures as it is tailor-made for this fraught moment in our own story.
---
"The Revolutionists." Written by Lauren Gunderson. Directed by Allison Watrous. Featuring Jada Suzanne Dixon, Adrian Egolf, Máire Higgins and Rebecca Remaly. The Boulder Ensemble Theatre Company at the Dairy Center for the Arts, 2590 Walnut St., Boulder. For tickets thedairy.org or 303.444.7328. For information betc.org.