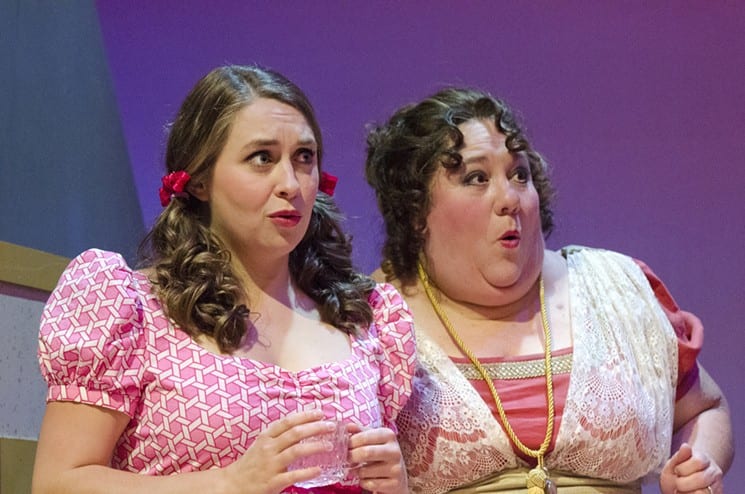 Pride and Prejudice
by Kate Hamill
A new adaptation of the novel by Jane Austen, presented in Season 13
September 15 – October 7, 2018
In this playful adaptation of Jane Austen's classic romance, Kate Hamill gives the story we know and love an unconventional updating. In Regency England, love is a serious game, and the Bennet sisters are playing for keeps. But when marriage is a must for women, how will they be able to tell if they've won? This clever comedy offers a decidedly progressive take on the trials of Lizzy, Mr. Darcy, and the whole Bennet clan, with a few dance breaks thrown in for good measure.
"In this poignant, funny, and heartwarming production, Hamill keeps the focus on the women's hearts." ColoradoDrama.com
View the Pride and Prejudice photo gallery.
Cast
Lizzy: Candace Joice
Darcy: Zachary Andrews
Mrs. Bennet: Leslie O'Carroll (Sponsored by Dale & Ellen LaGow)
Mr. Bennet/Charlotte: Lindsey Pierce (Sponsored by Linda & Chris Hansen)
Jane/Miss de Bourgh: Anastasia Davidson
Lydia/Lady Catherine: Adeline Mann (Sponsored by Rena & Ronny Wells)
Mary/Mr. Bingley: Casey Andree (Sponsored by Betsy & Albert Hand)
Collins/Wickham/Miss Bingley: Brian Kusic
Production Team
Director: Rebecca Remaly
Stage Manager: Maxie Bilyeu
Set Designer: Ron Mueller
Costume Designer: Katie Horney (Sponsored by Rochelle & Don Remaly)
Lighting Designer: Colin Young
Sound Designer: Steven McDonald
Properties Designer: Amy Helen Cole
Choreographer: Diana Dresser
Dialect Coach: Gabriella Cavallero
Dramaturg: Heather Beasley