Here's the thing: I don't get out much. I'm not a shut-in; I'm just really busy. During the day, I have a middle-management office job. At night (and on the weekends, and sometimes early mornings) I work as Managing Director and an artistic ensemble member for Boulder Ensemble Theatre Company. And 24 hours a day, I'm a mom. So, yeah, I think it's fair to say that I don't get out that much.
So the past two weeks are notable. As I write this, I'm on a plane to DIA, heading home after a fortnight in Beantown directing a new play workshop at Huntington Theatre Company. How did this happen? Do I actually like oysters now? And is the play any good?
These are all fair questions. Let me answer them in order.
An intriguing invitation
David Valdes Greenwood is a New England playwright and author, and a Huntington Playwright Fellow. He also holds the distinction of being the first winner of BETC's Generations new play competition. David's play, Full Code, received its world premiere at BETC just this past season. Having come to Boulder thrice – for the workshop, for the first read-through and early rehearsals, and then for the opening, David has happily developed a bit of a crush on BETC. He's also become a wonderful advocate for our Generations program, spreading the word far and wide to his playwriting cohorts about our new play development process.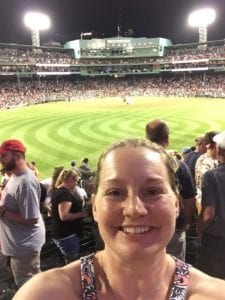 I didn't work with David on Full Code. In fact, I'm pretty certain that, when I first met him, I introduced myself by saying, "I'm the money." So I was surprised when, several months ago, I received a message from David asking if I would allow him to submit my name as his recommendation to direct a workshop production of one of his new plays. And I was astonished to get an email from Huntington a few weeks later, inviting me to Boston. After a bit of thought, and a lot of coordination and compromise between work and family, I said yes.
The Boston adventure begins
On Monday, July 10th, I hopped on a plane to live in Boston for two weeks in my own apartment. At Fenway Park, I sang "Sweet Caroline," and saw the Red Sox defeat the Yankees. I walked everywhere, usually at least five miles a day. I saw two of my best college buddies, who live in the area, and I fought the urge to act 19 years old again, to varying degrees of success. I hiked to the peak of Mount Osceola in the White Mountains, a cute little hill by Colorado standards, but my quads still protested soundly. I drank delicious craft cocktails and ate, yes, oysters.
Historically, I've believed I did not like oysters. I may have been converted over the past few weeks. In fact, last night, at a seafood bar after an epic self-guided walking tour, I actually advised a New Englander who was looking at his menu with a befuddled expression. I said, "You know, I especially liked the Spindrifts. They were mild and plump, but also nice and briny." He ordered three, thanked me, and ordered three more. I was very proud of myself.
Oh, I did have some rehearsals.
The creative process
The Huntington Summer New Play Workshop program is a nurturing and developing ground for their Huntington Playwright Fellows. The company selects four scripts from among their HPF alumni, and bring in directors, actors, dramaturgs, and stage mangers to support the playwrights in their quest to take their scripts to the next stage of its life, whatever/wherever that might be. Each day, the cast and crew for two of the four scripts would spend a full day in rehearsal, while the playwrights for the other two plays would do script work (while their cast and crew skipped off to eat oysters).
By the time of the public readings this weekend, each play had benefitted from 40+ hours of rehearsal, with additional time dedicated to conversations between the director, playwright, and dramaturg. It's a solid, thorough, and thoughtful process, with room for the playwrights to breathe and pontificate, and for the directors and actors to craft well-realized characters and relationships.
David's play is titled The Last Catastrophist. A couple years ago, he read an article about the harassment of American climatologists by big business lobbyists and networks. Around that time, he also watched the Melissa McCarthy comedy Spy. David envisioned a satirical and hilarious futuristic cat-and-mouse caper, and his first draft reflected just that. However, as he worked through subsequent drafts, and as he dug further into his research, David realized that his play was not quite as futuristic as he would like to think. He also found himself less inclined to make it the broad comedy he'd originally crafted.
By the time of our first read-through, the script was at a real turning point. It was becoming less of a caper and more of a thriller. The jokes were being thinned out like carrots, leaving the really good ones to flourish. Partway through our second day of rehearsal, one of our actors had to leave the show. Given that the play only has two actors, this could have been a major setback. Boston has a tremendous wealth of talent, however, and by our third rehearsal, Huntington had found us a replacement. And we immediately realized that Deb Martin, our new Marina, and Miranda ADEkoje, our Lucia, had fantastic chemistry together.
Because Deb was able to slip into the role so quickly and gracefully,we were able to spend part of the second week exploring some of the more physical scenes on our feet and away from the script stands. Getting the actors moving around the space gave David some new insight into how those passages flowed; it also provided the actors and me more tools with which to sketch the two characters and mold their relationship.
Ready for an audience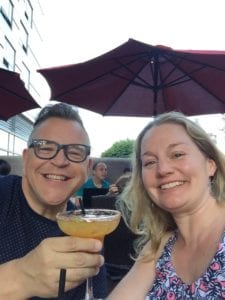 This afternoon we held our public reading, the culmination of the past two weeks. An intimate space with a full house is exactly what I love to see, and that's exactly what we had. David and I sat in the back so we could watch the audience watch the show. And it was fascinating. A tight 75 minutes, with big laughs in the beginning gradually fading as the show barreled toward the bracing ending, the audience rapt and even gasping in places. Miranda and Deb brought the house down, and David grinned like a Cheshire cat.
I am so very grateful to David for opening this door for me, and to Huntington for this wonderful, challenging experience. The past two weeks, both in and out of the rehearsal studio, were an absolute blast. Boston, you just might have stolen a little piece of my heart. And I can't wait to see what the future holds for this quasi-futuristic play. Here's to the success of The Last Catastrophist.