Colorado — Drive up Highway 36 just outside Lyons, and you might catch a glimpse of a (not so) tiny new collaboration happening between the Butterfly Effect Theatre of Colorado (BETC), SimBLISSITY Tiny Homes and THD Productions, Inc.
Just outside of Lyons, SimBLISSity builds energy-efficient tiny homes on wheels. Head Creative Byron Fears' love of tiny homes (affectionately called "tinys") led him and his wife and Co-Creator Dot Fears to their path of building for and ushering people towards more sustainable and size-appropriate lifestyles.
In 2019, Elli Varas, Director of Artistic Operations for the Bravo! Vail Music Festival and Todd Howe, President of THD Productions and Bravo! Vail's Technical Director contacted SimBLISSity with an idea: a concert series called "Concert for One," created by violinist Rayna Yun Chou, in a tiny house. Due to COVID, the "Concert for One" concept never materialized in Vail, but a year later Bravo! Vail's pandemic pivot became the very first tiny mobile stage, performing 43 outdoor concerts across diverse venues, from driveways to pocket parks in 2020.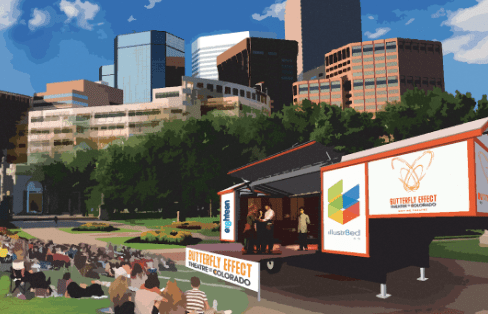 In 2021, Butterfly Effect Theatre of Colorado (BETC) launched its own tiny mobile stage concept to reach new audiences beyond its 14-years at Boulder's Dairy Arts Center. The company would work hand-in-hand with organizations throughout Colorado to bring free outdoor theatre into their communities. In the "beta test" tour, BETC brought Aaron Posner's "JQA" to communities from Colorado Springs to Boulder. The positive response was immediate, even with the limitations of the small moving-truck-sized stage.
Now, SimBLISSity and THD Productions are creating their fifth tiny mobile stage for BETC's 2022 summer season and beyond. At 35 feet long and nearly 16,000 pounds, this innovative mobile venue will impress audiences with full stage lighting, an enhanced sound system and a retractable stage space twice the size of its first tour.
This summer, BETC will tour two plays on the new tiny mobile stage: the world premiere of "Amelia's Big Idea," BETC's first musical and first theatre for young audiences production, by co-writers Heather Beasley, Richie Cannaday and Edie Carey, and E.M. Lewis' new play "Dorothy's Dictionary."
BETC Theatre Truck: Summer 2022
June 9-Aug. 7, venues across Colorado.
Hitting the road to bring theatre to Colorado communities.