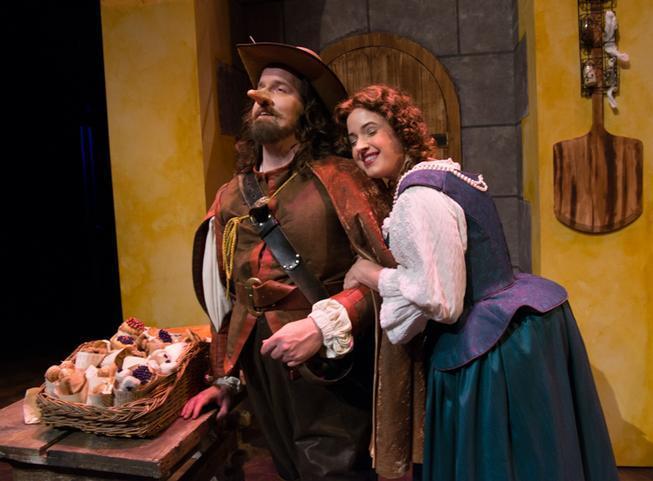 By Joanne Ostrow, Denver Post (Read the original.)
 * * * ½ adaptation of romantic classic
An adaptation of the well-worn love story from 1897, Cyrano remains relevant in 2016. Considering how many people lie on their online dating profiles, even submitting retouched, out of date or phony photos, insecurity about a physical attribute never goes out of style.
In the case of Cyrano de Bergerac, of course, it's his nose. Really, unfortunately big. Like, he says, it enters the room 10 minutes before he does. (Sometimes he borrows from vaudeville.)
Cyrano can hold off scores of assailants with his sword, win a woman's heart with his poetry and top his tormentors' jokes about his proboscis. But he can't manage to feel okay about his appearance.
This Cyrano, a production of the Boulder Ensemble Theatre Company with Stephen Weitz in the title role and Rebecca Remaly directing, delivers on beautiful language and fancy swashbuckling, in a classic story crisply told.
Weitz, the producing director at BETC, returns to the stage as a soulful Cyrano. He makes the character's pain clear even in the midst of his clever reparte. You feel for the guy, as he agrees to pen letters to his beloved Roxane (Adrian Egolf) on behalf of the handsome but dim Christian (John DiAntonio). He's not a wimp full of self-pity but a nobleman who carries his melancholy secret with style. He also subtly reminds us of the character's sense of humor throughout his suffering. Roxane and Cyrano are cousins — distant cousins, he keeps asserting — and they are in synch in a way the pretty boy Christian can't comprehend.
The modern vernacular conveys their sentiments in a style that only occasionally calls attention to itself:
"I'm not good with the language thing," Christian confesses.
Remaly, BETC co-leader, makes the most of the spacious Lone Tree facility, using the whole house and balconies to good effect.
(The husband-and-wife team of Weitz and Remaly landed on the partnership with the Lone Tree Arts Center while the BETC waits for renovations to be completed on the Dairy Arts Center. It's a boon to both companies.)
The adaptation of Edmond Rostand's classic of the French theater was written by Michael Hollinger and Aaron Posner. They've ditched the rhyming verse, suggested comedy in small places, and resisted the urge to slap on a happy ending (a Hollywood move that Steve Martin's "Roxanne" couldn't resist.)
In this regional premiere, Prosthetic Nose Designer Todd Debreceni manages a big job. Fight director Geoffrey Kent choreographed athletic swordplay — amid much punning on pricking — that also finds moments of physical humor.
Weitz is convincing as a dashing fighter, a deflated would-be lover and, later, as an aged but still loyal suitor.
Egolf plays Roxane as smart and sassy. Sammie Joe Kinnett is hilarious as Roxane's chaperone, maximizing the drag laughs.
From funny to touching, the whole piece has a certain, what is the word? — panache.