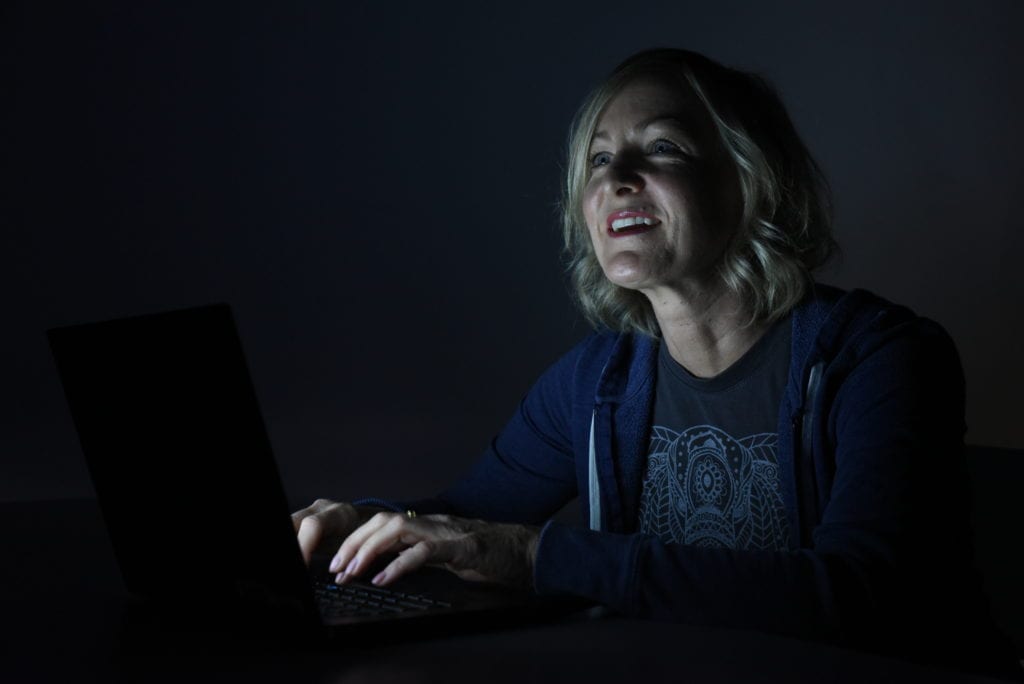 By Beki Pineda, for Boulder Magazine (Read the original.)
TINY BEAUTIFUL THINGS – Written by Nia Vardalos based on the book by Cheryl Strayed; Directed by Rebecca Remaly. Produced by Boulder Ensemble Theatre Company (presented at the Dairy Center for the Arts, 2590 Walnut St) through October 12. Tickets available at 303-444-7328 or thedairy.org.
TINY BEAUTIFUL THINGS is not tiny. It is a HUGE BEAUTIFUL thing. What a touching amazing exploration of the human condition told in an unusual but magnificent method. It's funny, sad, happy, heartbreaking and moving – all in one swell foop.
A woman – who remained anonymous for a long time – took on the journalistic task of answering people's letters for an online column. But unlike her predecessors (like Ann Landers and "Dear Abby"), she based her replies on her personal experiences and shared stories of her own outrageous life with her readers. She too had done drugs, lost people dear to her, made mistakes and bad choices – but survived it all to emerge on the other side as balanced and happy in her home life. By using her own life stories to point out a way of thinking to her readers, she bravely opened her soul to the world. The people who wrote her knew they would be taken seriously and given new and meaningful ways of looking at their situation or problem.
Writing from her living room while folding laundry or baking muffins, Cheryl (Diana Dresser) answers the questions of her writers (multiple characters taken on by Josh Hartwell, Rodney Lizcano and Simone St. John). That's the crux of the action. But SO MUCH more is going on in the dialogue and emotions spilled out on the floor. You'll laugh and cry at the same time. Diana Dresser as Cheryl never gets ruffled at the questions she is asked or the situations she is asked to explore. Her own life lessons have taught her how to help others. Diana brings a quiet surety and an empathetic heart to her role.
There was a one-woman performance a few years back about Ann Landers called "The Lady With All the Answers" during which the actress playing Ann read the letters and then read her response. This newer version based on a similar theme wisely utilizes actors to portray the letter writers. Josh, Rodney and Simone take on multiple roles as the people with the problems . . . . and the curious souls who were trying to figure out who this woman was. They brought crisp interpretations to each of their characters with problems – some funny, but most heartfelt and meaningful. Rodney's story of a son killed and a father unable to get past it will break your heart.
So this quiet beautiful play will hopefully . . . possibly . . . . change in tiny ways how you think about your fellow man and spread a gospel of empathy and understanding. Ms. Strayed learned and passed on that life is made up not so much of big dramatic moments. You may have a dozen of those during a normal lifetime. Instead it is formed by millions of tiny beautiful moments that make up your every day life. If you can teach yourself to slow down and recognize them.
A WOW factor of 9.5!!