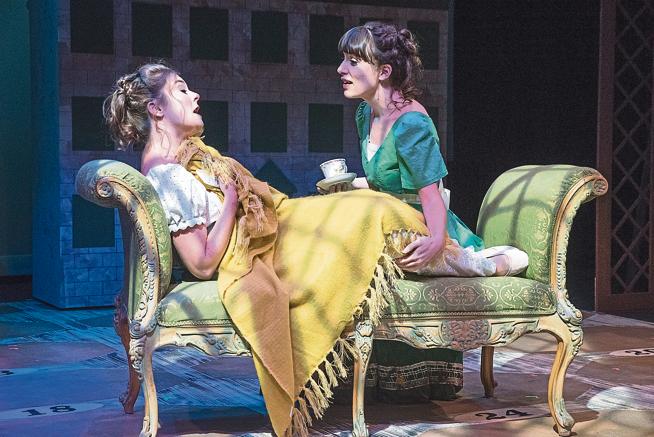 Boulder Ensemble Theater Company flourishing as new season begins
With new space, more actors, expanded productions, Boulder's signature theater company kicks off season 13
By Adam Goldstein, Boulder Daily Camera (Read the original.)
Stasis isn't an option for the Boulder Ensemble Theatre Company's creative brass.
The troupe kicked off its 13th season earlier this month with a production of Kate Hamill's post-modern adaptation of "Pride and Prejudice," Jane Austen's beloved romantic romp that carries plenty in the way of cultural currency and fan expectation. BETC's production doesn't shy away from embracing new spins on the familiar piece; while the show doesn't go as far with its liberties as, say, Seth Grahame-Smith's "Pride and Prejudice and Zombies," it moves to update Austen's 1813 seminal work with plenty of touches from the 21st century.
According to director Rebecca Remaly, the production doesn't shy away from anachronisms. With a focus on the theme of love as sport, the show incorporates game pieces and boards, it makes full use of a wide array of bells, dings and buzzers and light cues that summon the dynamic of a game show. It's an ambitious take on an epic story, a bold choice for a season opener that hints at a broader move toward creative expansion and a greater scope for one of Boulder's signature theatrical companies.
"You don't want to get stuck in one place," said Stephen Weitz, BETC's producing artistic director and one of the troupe's founding members."We're continuing to grow in budget and size, and that goes hand-in-hand with finding content that will attract new audiences."
Weitz and Remaly spoke from the troupe's new rehearsal and storage space in Westminster. The new facility, dubbed "BETC East," will also host classes that range from playwriting to improv to audition prep. This new home has helped accommodate the troupe's expanded scale for its 13th season, a step-up that's clear in some simple numbers: the total tally of actors featured in the troupe's current season has grown from 15 in 2017-18 to more than 40, a leap that's mirrored in the increased amount of contracts for crew members and designers.
"As our pool gets bigger, it's artistically rewarding. It's rewarding to have a sound business and growth strategy," Weitz said. "As artists, it's a chance to flex our muscles and spread our wings."
That commitment is clear in the rest of the lineup for the coming season, a selection that includes a Pulitzer Prize finalist, a return to the world of Jane Austen's "Pride and Prejudice" characters, a BETC holiday staple that Weitz has directed nine times, an award-winning new play from Chicago's acclaimed Steppenwolf Theatre and, finally, an immersive Tony Award-winner that will represent the largest production in the troupe's history.
Following "Pride and Prejudice," which runs until Oct. 7, the company will debut "The Wolves" by Sarah DeLappe, a Pulitzer Prize finalist that centers on a team of nine female indoor soccer players. All of the scenes take place before a game, and the characters offer a glimpse of the trials and tribulations of adolescence, even as the show delves into the pressures and demands on teenage athletes in a suburban soccer league.
"'The Wolves' is raw, shocking, funny, fresh and honest look at the lives of these adolescent women," said Remaly, who's directing the regional premiere. "These nine characters are interpreting world issues — abortion, sex, loss, grief — as they warm up for each game."
The show's character-driven impact will appeal to younger theater-goers, Remaly added, even as it taps into Boulder's dedicated soccer community.
"Adolescents' official voice is too often dismissed or taken with a lighter weight," she said. "This is a fast-paced, exciting show, and it offers a chance to share these stories onstage."
The end of 2018 will yield two holiday shows from the company, one of which will be familiar to anyone familiar with BETC's history. "Miss Bennet: Christmas at Pemberley" by Lauren Gunderson and Margot Melcon, will run from Dec. 6 to 24, and will revisit characters from "Pride and Prejudice." The show, directed by Rick Barbour, focuses on the character of Mary Bennet, and seeks to answer questions about a literary figure too often overlooked.
"Christmas at Pemberley" offers a link to the first show of the season, and offers holiday cues designed to appeal to those looking for a quintessentially festive story for the season.
This show will pair with BETC's ninth consecutive production of "The Santaland Diaries," an adaptation of David Sedaris' writings about his time working as a Christmas elf in Macy's Department Store in New York City. Starring Michael Bouchard and directed by Weitz, the co-production with DCPA Off-Center will run at the Denver Center for the Performing Arts.
"I understand why people love this show," Weitz said. "It's my ninth time directing, and it's still fun."
The company will follow up those holiday offerings with "The Rembrandt" by Jessica Dickey from Feb. 7 to March 3, a dramatic voyage through history that debuted at Chicago's Steppenwolf Theater. The drama kicks off in a modern art gallery, and shifts in time according to the history of a specific painting. Weitz, who will direct the show, calls it "maybe the most 'BETC'" production of the season, with its themes tied to the longevity of art and the brevity of the human experience.
The season wraps up with the largest BETC production to date, a take on the Tony Award-winning Broadway marvel "The Curious Incident of the Dog in the Night-Time," which runs from April 25 to May 19. The adaptation of Mark Haddon's novel by Simon Stephens is an ambitious whodunit, a large-scale production that features a cast of 10 actors playing more than 30 years.
The drama is conceptually challenging and demanding for actors, crew and tech alike. It's a production that demands a bold approach and a fearless commitment to stagecraft, one that neatly sums up BETC's undaunted approach to their 13th season.
"We're the first company tackling this show with a budget under $5 million," Weitz said. "We're going out on a limb. It'll be BETC's version, but we will honor the concept of the play…We're taking a step forward with this show."