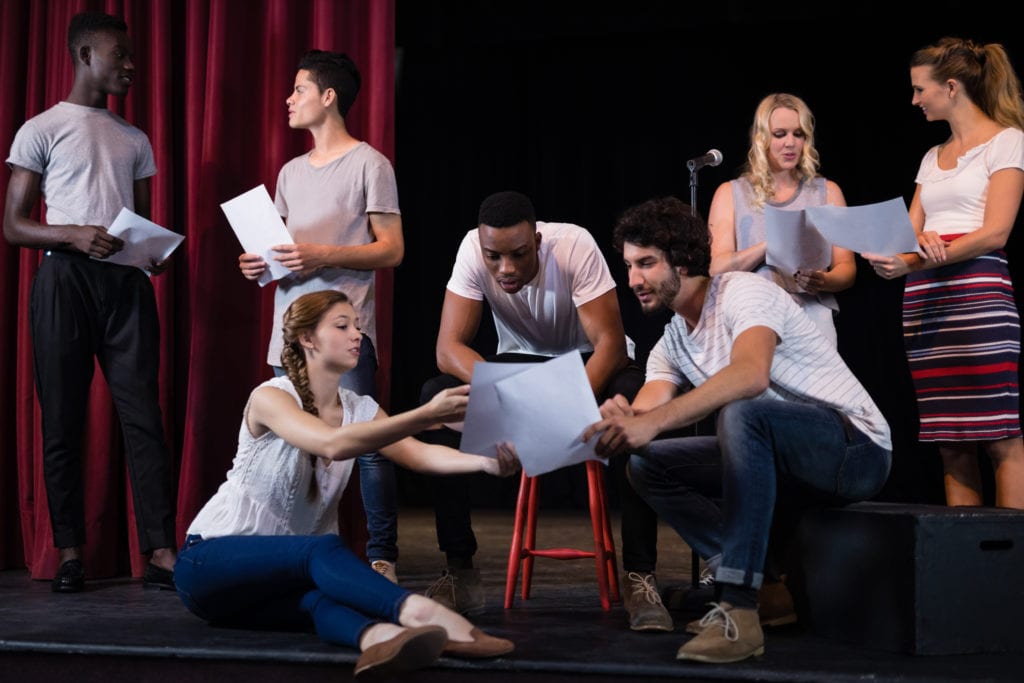 Come learn and play with us. Hone your skills, get out of your comfort zone, and have fun! All classes meet at the brand-new BETC East studio in Westminster. Our classes are open to all adults and young adults 16 and older.
*All classes are held at BETC East, 10835 Dover Street, Suite 200, Westminster, CO MAP
Winter 2019 Theatre Class Schedule
Deadline to register: Friday, February 1st
**BETC's 2018-2019 Education Program is made possible in part by Paul Gery and SCFD.**
Playwriting Workshops
Saturdays, February 2, 9, and/or 16, 9:00am-noon
Instructor: Josh Hartwell
$50 per session / $120 for all 3 sessions REGISTER
February 2nd: Generating Ideas for Plays
How will you decide what to write about? Take part in brainstorming and creative play writing exercises as you begin the playwriting process.
February 9th: Exploring Character and Setting
Who are the people in your play? In what world does it take place? In this session, you'll learn how to build strong, lifelike characters, and create settings that add depth and interest to your story.
February 16th: Digging Into Dialogue
What are your characters fighting for?  This week we'll look at why and how your characters talk to each other, and how they can use their words as weapons to achieve their goals and move the play's action forward.
Improv 101: The Art of Yes, and…
Mondays, February 4 – March 11, 6:30-8:00pm
Instructor: Adrian Egolf
$175 REGISTER
Explore all the facets of what it takes to be an adept improviser, think on your feet, and make audiences laugh. Adrian will take you through the fundamentals of improvisation, starting with short-form games and going all the way to a full length Chicago "Harold"-style set. Learn how to listen and play in crazy, make-believe worlds and scenarios. This class will give you a strong foundation of improvisation skills that can propel you into professional improv troupes, help you in comedic straight plays, and just make your week a little more fun!
The Actor's Craft
Tuesdays, February 5 – March 12, 6:30-8:00pm
Instructor: Matthew Schneck
$175 REGISTER
In this six-week class, you will learn how to create natural, spontaneous performances. Develop your acting abilities through script analysis, theatre exercises, character and monologue work. Refine your performance skills and take creative risks in a supportive environment. Preparation time outside of class may be required.
Project Management for Creatives
Wednesdays, February 6 – March 13, 6:30-8:30pm
Instructor: Andrew "Metz" Metzroth
$185 REGISTER
Whether you're writing a play, launching a YouTube channel, taking your band on tour, creating a role, painting a mural, updating your website, making a sculpture, planning an event, putting on a show, or creating an experimental art installation, you're making a creative project.
Projects can vary in scale, but they all require organization, communication, and management to go from an idea to a success. Former BETC Production Manager Andrew "Metz" Metzroth explains how you can apply project management techniques to your own creative process for more effective and scalable results.
This class is intended for professional and experienced amateur artists committed to making their own projects more successful, more manageable, and less stressful.
Arts Grant Writing 101
Sunday, February 10, 1:00-5:00pm
Instructor: Dr. Heather Beasley
$75 REGISTER
You have a great idea for an arts project…but you're not alone! What does it take to write a competitive grant application? Demystify the grant writing process in this four-hour class for individual artists and staff/volunteers of small arts organizations. You will learn how to:
Find grant opportunities that match your project's vision.
Research prospective funders to find the best match for your work.
Communicate by understanding funders' language and goals.
Identify and organize information a competitive proposal requires.
Construct a detailed project budget before you have a dime in hand.
Build your case with a strong project description, timeline, and evaluation plan.
Visualize and describe project impacts honestly and effectively.
Avoid the roadblocks that can keep artists from winning the funding their great ideas deserve.
Instructor Bios:
Dr. Heather Beasley has won more than $300,000 in grant funding for various arts organizations in Colorado, much of it in small-grant awards of $10,000 or less. She has also served on jury panels for the Boulder Arts Commission and Colorado Creative Industries grant programs, selecting winning proposals from a crowded field of applicants. Dr. Beasley has sought arts funding in the Colorado landscape for over a decade, so can speak knowledgeably about metro area arts funding resources.
Adrian Egolf is a veteran improviser, with five seasons of Boomtown Improv with Creede Repertory Theatre, two seasons of Impulse Improv, and multiple improv workshops for all ages under her belt. Adrian is also a private acting coach, theater teacher, and director of children's theater for the Denver Center Theater Academy. Adrian loves teaching and working with artists to boost confidence, enhance skill sets, and nurture a love of the arts. Training/Awards: The National Theater Institute, The American Academy for Dramatic Arts, St. Petersburg Arts Academy; 2018 Best Year by an Actress, Westword; 2017 Best Portrayal of a Silly, Vain, Vulnerable Woman, Westword; 2017 Henry Awards Nomination Best Actress, A Kid Like Jake, Benchmark Theatre; 2017 Henry Award Nomination Best Supporting Actress, The Revolutionists, Boulder Ensemble Theatre Company; 2014 Ovation Award for ScreenPLAY.
Josh Hartwell is an Artistic Company Member at Curious Theatre Company, and an Ensemble Member at Boulder Ensemble Theatre Company.  As an award-winning and internationally produced playwright, Hartwell is represented by Abrams Artists Agency in NY. Contrived Ending (Ovation Award and Henry Award nominees) earned feature film and Off-Broadway contracts with Starry Night Entertainment.  The Rank and the Bloodrush was a finalist for The O'Neill Festival's New Play Conference and won second place at the Bottletree One Act Play Competition in Kingston, Ontario.  He has been an instructor and mentor for young playwrights with Curious New Voices since 2008 and with The Denver Center for Performing Arts since 2014.  He has taught play writing workshops and has been a guest artist at the University of Colorado in Boulder, Denver University, and the College of Wooster in Ohio.  Hartwell is Colorado's first Regional Representative for the Dramatists Guild.
Andrew "Metz" Metzroth is the Operations Director of CU Presents at the University of Colorado. He helps to coordinate hundreds of events of all sizes annually. He has also worked creatively and in production on almost 200 shows in the Denver metro area since 2005. He hosts the weekly podcast Alzabo Soup and served as BETC's production manager from 2012-2016. He holds a BFA in Theatre Technology/Design, BA in Religious Studies, and an MA in Theatre, all from CU-Boulder.
Matthew Schneck is an award-winning actor and playwright, as well as a director and university professor.  He made his Broadway debut in the Tony-nominated production of London Assurance.  Since relocating to Denver in 2017, Matthew has performed in: The Taming of The Shrew (Grumio), Julius Caesar (Cassius), Henry VI, Part III (The King of France), Love's Labours' Lost (Holofernes), and Cyrano De Bergerac (Le Bret), all at Colorado Shakespeare Festival; The Rape of the Sabine Women (Henry Award Nomination) at Local Theatre Company; and The Intellectual Homosexual's Guide to Capitalism and Socialism With A Key to the Scriptures at Curious Theatre Company. He was most recently seen in Holy Couch as part of DCPA Off-Center's Bite Size: An Evening of Micro-Theatre. He is a graduate of Villanova University and The National Theatre Conservatory, is the author of twelve plays, and has held academic appointments at Southern Oregon University and The University of Kentucky. Matthew currently teaches Acting at University of Colorado Denver and The Denver Center for The Performing Arts.