The Realistic Joneses at BETC (Boulder, CO)
By Barbara Peterson (Read the original.)
People have an innate need, and the ability, to communicate with each other. What happens when they lose that ability?
Will Eno explores this theme in his critically acclaimed play, The Realistic Joneses, which is being performed Thursdays through Sundays until November 19, 2019 by the Boulder Ensemble Theatre Company (BETC) at the Grace Gamm Theater inside the Dairy Arts Center in Boulder, Colorado.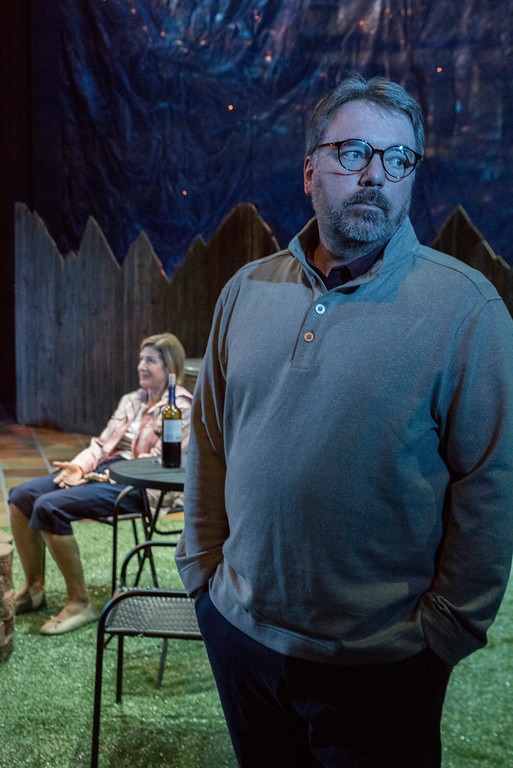 Bob Jones (Michael Morgan) has a progressively debilitating neurological condition for which there is no cure. Bob seems content, or only able to, take the medications his doctor prescribes and do nothing else to help his condition. This frustrates his wife Jennifer (Emily Paton Davis), who is desperately seeking to keep Bob's communication and interaction ability alive – in particular with her.
Into their small world comes two new neighbors. John and Pony Jones (Casey Andree and Kate Parkin) have just moved to town and into the house next door. They are young, and quirky…and John is hiding an ironic secret which is gradually illuminated as the couples come to know each other.
The interactions between the pair of Joneses take place on a simple set – garden chairs and tables for Bob and Jennifer's back yard, and a table and refrigerator for John and Pony's kitchen – with shadowy mountains always in the background.
The Realistic Joneses is full of humor and compassion. The dialog is sharp and sometimes confusing – displaying Eno's mastery of manipulating language which he imparts to his characters.
Michael Morgan is simple and effective as the hapless Bob Jones, already well along with the disease that is slowly robbing him of his ability to interact with others. His wife Jennifer maintains a positive outlook, but as played by Emily Paton Davis we see the pain, frustration and sometime anger behind her mask of positivity.
Kate Parkin is a delight in the difficult role of Pony – young, scatterbrained, talkative, and with an underlying sense of insecurity. We don't learn much about the backgrounds of any of the characters, except for Pony.
As she tells it, her father gave her the name Pony because "He said my arms and legs were too long and weak. He's, he's…"
Then Pony makes a gesture as if his throat had been cut.
When Jennifer asks in horror, "He was murdered? She replies laughingly, "No, God no!" Then her face becomes serious and she says, "But, thank you."
One wonders what kind of father would criticize a child in that way, and what kind of family life Pony had that helped to form her current self.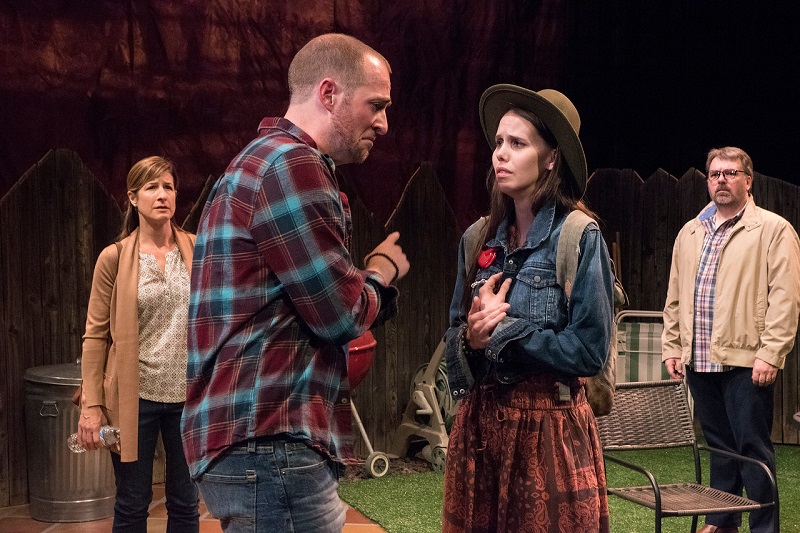 As the outgoing John, Casey Andree's role perhaps delivers the most emotional impact, as he's only in the beginning throes of the disease that will eventually silence him, too, and we get to see just what the condition is doing to him.
There are no cures at the end of The Realistic Joneses, just acceptance and the promise to keep fighting, which in itself is a kind of happy ending.
Don't miss this funny and thought-provoking production at the BETC.