Gifts Outside the Box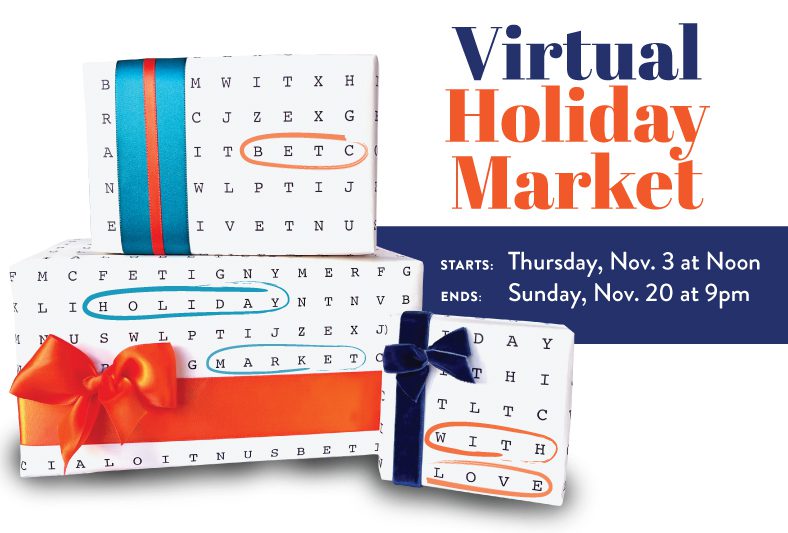 About the event
Give a unique gift this season, and support great theatre in Colorado.
This season, we're grateful for our community's resilience and compassion in challenging times. Your generosity has kept BETC strong through this time of life-changing events. We thank you from the bottom of our hearts.
BETC's virtual Holiday Market offers you over 50 unique experiences and custom-made gifts available for auction. All proceeds will go toward BETC's 2023 artists, programs, and performances.
Schedule
Bidding begins on Thursday, November 3rd and ends at noon on Sunday, November 20th.
Pricing and registration
The Holiday Market is a virtual event. No prior registration is needed, participants can create an account and bid any time after bidding begins. Starting bids for gifts begin as low as $50. Bid as high as you'd like! Every dollar goes to supporting great theatre in Colorado.
What they're saying
"We had a really good experience at the 2020 BETC Holiday Market, and we are still enjoying our beer a month from Left Hand Brewery in Longmont. The basket from Hazel's Beverage World was filled with ingredients to make Moscow Mules and snacks to accompany the drink. Very pleased." —Sue Glenn
"I gave the Mile High Glider Ride to my mother as a Hanukkah gift last year. I loved participating in the Holiday Market. You had some really neat items!" —Maya K.
"Thoroughly enjoyed 'Going to the Birds' with Scott Severs. Scott took us on a tour of the North Boulder Recreation Area where we observed native species in their habitat while learning about their lifestyle and habits. Scott also was quite good at imitating the bird calls!" —Julie Walker
FAQs
Is the Holiday Market a fundraiser?
Yes! Gifts were curated and donated by local businesses and the BETC family. All proceeds from the market go to BETC.
How do I participate?
The Holiday Market is a virtual silent auction. Start with an opening bid on the gift you'd like. We'll send you updates if someone outbids you. You have until noon on Sunday, Nov. 20th to place your winning bid!
Is my purchase tax deductible?
Auction items are not available for a tax deduction
Can I donate a gift to the Holiday Market?
Wow, thank you for your generosity! Please contact Director of Development Margot Crowe at margot@betc.org or 720-840-8261 to donate a gift.