January 26-February 11 at The Savoy Denver
Opening Night: Saturday, January 27
May 3-19 at the Dairy Arts Center
Opening Night: Friday, May 3
This is an "endearingly funny and deeply affecting" Pulitzer Finalist.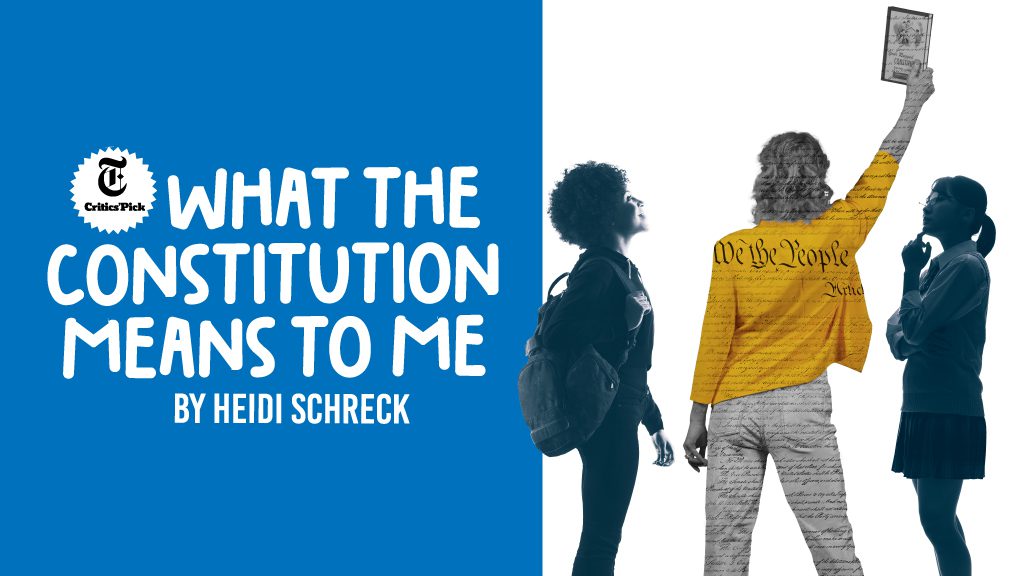 Jump to:  Buy Tickets – Details – Schedule – Discounts
About the Play
During its 2019 run on Broadway, "What The Constitution Means to Me" received a tidal wave of critical praise, two Tony Award nominations, and ultimately became a Pulitzer finalist. The New York Times hailed Schreck's boundary-breaking show as ". . . not just the best play to open on Broadway so far this season but also the most important."
In this smart and timely comedy, Schreck resurrects her 15-year-old self who traveled the country competing in American Legion speech competitions to save money for college. Unearthing her perspective on the Constitution then and now, she delves into four generations of women in her family and how the founding document shaped their lives. BETC is honored to premiere this NY Times 'Critics' Choice' comedy in Denver and Boulder.
Buy a Subscription
---
Performance Details
Venue
Grace Gamm Theater, Dairy Arts Center, Boulder
COVID Precautions
BETC follows CDC, federal, state, and local guidelines with regards to COVID safety. At this time, patrons will not be required to be masked or to show proof of vaccination at the theater.
If a performance is canceled due to COVID, ticketholders will be able to exchange, refund, or donate their ticket(s) to BETC through the Dairy Arts Center at 303-444-7328.
Content Considerations
"What The Constitution Means to Me" runs approximately 100 minutes without intermission.
"What The Constitution Means to Me" contains adult language and content, and is recommended for audiences aged 14 and above. BETC does not offer more specific advisories about the subject matter, as sensitivities vary from person to person. If you have any questions about content or age-appropriateness, please call the BETC Office at 303-351-BETC.
Please note that we do not permit children under the age of six into the theater, and we do not permit babes-in-arms.
---
Schedule
The Savoy Denver, Denver
Friday, January 26 (Preview)
Saturday, January 27 (Opening Night)
Sunday, January 28
Thursday, February 1
Friday, February 2
Saturday, February 3
Sunday, February 4
Thursday, February 8
Friday, February 9
Saturday, February 10
Sunday, February 11
Dairy Arts Center, Boulder
Friday, May 3, 7:30 p.m. (Opening Night)
Saturday, May 4, 7:30 p.m.
Sunday, May 5, 2:00 p.m.
Thursday, May 9, 7:30 p.m.
Friday, May 10, 7:30 p.m.
Saturday, May 11, 7:30 p.m.
Sunday, May 12, 2:00 p.m.
Thursday, May 16, 7:30 p.m.
Friday, May 17, 7:30 p.m.
Saturday, May 18, 7:30 p.m.
Sunday, May 19, 2:00 p.m.
We invite you to stay for post-show conversations with the production artists on Opening Night 05/03, and Sunday matinees 05/12 and 05/19!
---
Tickets & Discounts
Season Subscription
Become a BETC season subscriber today, and you'll get a discount subscription to BETC productions at the Dairy Arts Center and VIP access to other BETC events and parties.
Single Tickets
Single tickets for the 5/3-5/19 run in Boulder are on sale through the  Dairy Arts Center. 
Tickets for the 1/26-2/11 run in Denver at The Savoy Denver will go on sale closer to the event, and will be available through the BETC website.
Student Tickets
Students can get $15 tickets online or by phone (303-444-7328) for all performances except opening nights and closing weeks. Must show a valid student ID with a ticket at the theatre.
Arts and Cultural Industries
Are you a member of a not-for-profit arts and cultural organization? Sign up for our mailing list to get exclusive discounts for arts and cultural workers. Not available for opening nights or closing weeks.
Group Sales
Looking to purchase tickets to a show for a group of 10 or more? BETC offers generous discounts for groups of 10+. If you are seeking special group arrangements, please call us at 303-351-2382.
Purchase tickets for your group online
10-19 tickets: 10% off · 20-29 tickets: 20% off · 30+ tickets: 30% off
A standard order fee of 13% per ticket applies to all orders.
Once you have added more than 9 tickets to your cart, the appropriate discount will be applied at checkout. All tickets will be reserved under your account for you to pick up at will-call, or mailed to you in advance. Communications about pre-event information or cancellations will be sent to you, to be forwarded to your guests.
---
"What the Constitution Means to Me" Supporters
Season Production Sponsor: Karen Steward Memorial Fund
Production Partner: Diana & Mike Kinsey
Check out all of BETC's generous supports and partners!
Do you want to help make great theatre possible?
Put the spotlight on your business with advertising and corporate sponsorship opportunities, or else make a tax-deductible contribution.