Feb 2-25, 2023 at the Dairy Arts Center
Opening Night: Saturday, February 4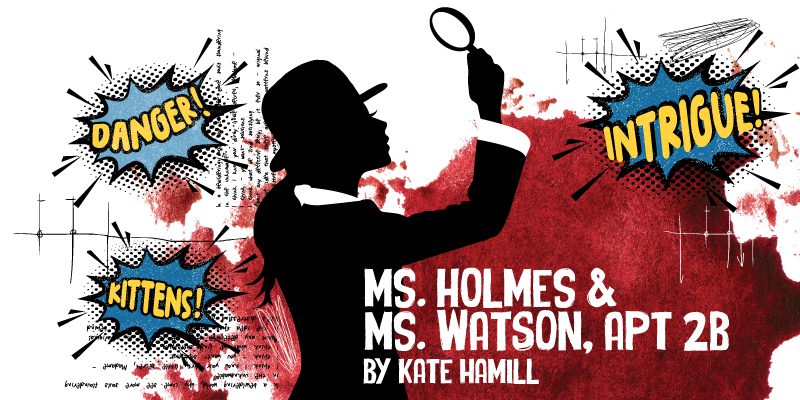 Jump to: Details – Schedule – People
About the Play
Think you know your Sherlock Holmes? Kate Hamill's fast-moving, madcap, modern reboot is a fresh new take on these classic tales. Join the world's greatest consulting detective and her not-a-sidekick as they investigate nefarious scandals and interrogate sexy villains. So much fun it's criminal!
Buy Tickets
Performance Details
Venue
Grace Gamm Theatre, Dairy Arts Center, Boulder
COVID Precautions
BETC follows CDC, federal, state, and local guidelines with regards to COVID safety. At this time, patrons will not be required to be masked or to show proof of vaccination at the theater.
If a performance is canceled due to COVID, ticketholders will be able to exchange, refund, or donate their ticket(s) to BETC through the Dairy Arts Center at 303-444-7328.
Content Considerations
"Ms. Holmes and Ms. Watson, Apt 2B" runs approximately 2 hours with one 15-minute intermission.
"Ms. Holmes and Ms. Watson, Apt 2B" contains mild language and violence. BETC does not offer more specific advisories about the subject matter, as sensitivities vary from person to person. If you have any questions about content or age-appropriateness, please call the BETC Office at 303-351-BETC.
Please note that we do not permit children under the age of six into the theater, and we do not permit babes-in-arms.
---
Schedule
Buy Tickets
Thursday, Feb 2, 7:30 p.m. (Preview – tickets just $25!)
Friday, Feb. 3, 7:30 p.m. (Preview – tickets just $25!)
Saturday, Feb. 4, 7:30 p.m. (Opening Night – includes Q&A with cast and director, plus special gift for all attendees)
Sunday, Feb. 5, 2 p.m.
Thursday, Feb. 9, 7:30 p.m.
Friday, Feb. 10, 7:30 p.m.
Saturday, Feb. 11, 7:30 p.m.
Sunday, Feb. 12, 2 p.m.
Thursday, Feb. 16, 7:30 p.m. (Talkback Night)
Friday, Feb. 17, 7:30 p.m.
Saturday, Feb. 18, 7:30 p.m.
Sunday, Feb. 19, 2 p.m. (Talkback Night)
Thursday, Feb. 23, 7:30 p.m.
Friday, Feb. 24, 7:30 p.m. (Talkback Night)
Saturday, Feb. 25, 2 p.m. Added performance!
Saturday, Feb. 25, 7:30 p.m.
---
Ticket Discounts
Memberships
Become a BETC member today, and you'll get a discount subscription to BETC productions at the Dairy Arts Center and VIP access to other BETC events and parties.
Buy Membership
Student Tickets
Students can get $15 tickets online or by phone (303-444-7328) for all performances except opening nights and closing weeks. Must show a valid student ID with a ticket at the theatre.
Arts and Cultural Industries
Are you a member of a not-for-profit arts and cultural organization? Sign up for our mailing list to get exclusive discounts for arts and cultural workers. Not available for opening nights or closing weeks.
Sign Up
Group Sales
Looking to purchase tickets to a show for a group of 10 or more? BETC offers generous discounts for groups of 10+. If you are seeking special group arrangements, please call us at 303-351-2382.
Purchase tickets for your group online
10-19 tickets: 10% off · 20-29 tickets: 20% off · 30+ tickets: 30% off
A standard order fee of 10% per ticket applies to all orders.
Once you have added more than 9 tickets to your cart, the appropriate discount will be applied at checkout. All tickets will be reserved under your account for you to pick up at will-call, or mailed to you in advance. Communications about pre-event information or cancellations will be sent to you, to be forwarded to your guests.
---
The People of "Ms. Holmes and Ms. Watson, Apt 2B"
Cast
Sherlock Holmes: Anastasia Davidson*
Dr. Joan Watson: Rebecca Remaly*
Irene Adler / Mrs. Hudson / Mrs. Drebber: Erika Mori*
Moriarty / LeStrade / Elliot Monk: Michael Morgan*~
Artistic and Production Team
Director: Stephen Weitz*
Stage Manager: Adara Baltazar
Scenic Designer: Tina Anderson*
Costume Designer: Erika Daun
Lighting Designer: Colin Young*
Sound Designer: Jonathan Holt Howard
Properties Designer: Amy Cole*
Dialects and Text Coach: Gabriella Cavallero
Dramaturg: Heather Beasley*
Assistant Stage Manager: Rowan Livengood
Assistant Stage Manager: Alexandra Ligh
*Member of BETC's Artistic Ensemble
~ Appearing through an Agreement between Butterfly Effect Theatre of Colorado and Actors' Equity Association, the Union of Professional Actors and Stage Managers in the United States.
"Ms. Holmes and Ms. Watson, Apt 2B" Supporters
Season Benefactor: Noel & Terry Hefty, Peak Asset Management
Season Benefactor: Karolynn Lestrud
Season Sustaining Sponsor: Cheri Belz, Architect & Realtor
Season Production Sponsor: Karen Steward Memorial Fund
Season Partner: Christian Vanek
Production Partner: Diana & Mike Kinsey
Production Partner: Joan & Paul Lavell
Artist Sponsor: Slalom Consulting
Do you want to help make great theatre possible?
Put the spotlight on your business with advertising and corporate sponsorship opportunities, or else make a tax-deductible contribution.
Learn More