Oct. 27 – Nov. 19 at the Dairy Arts Center
Opening Night: Saturday, October 29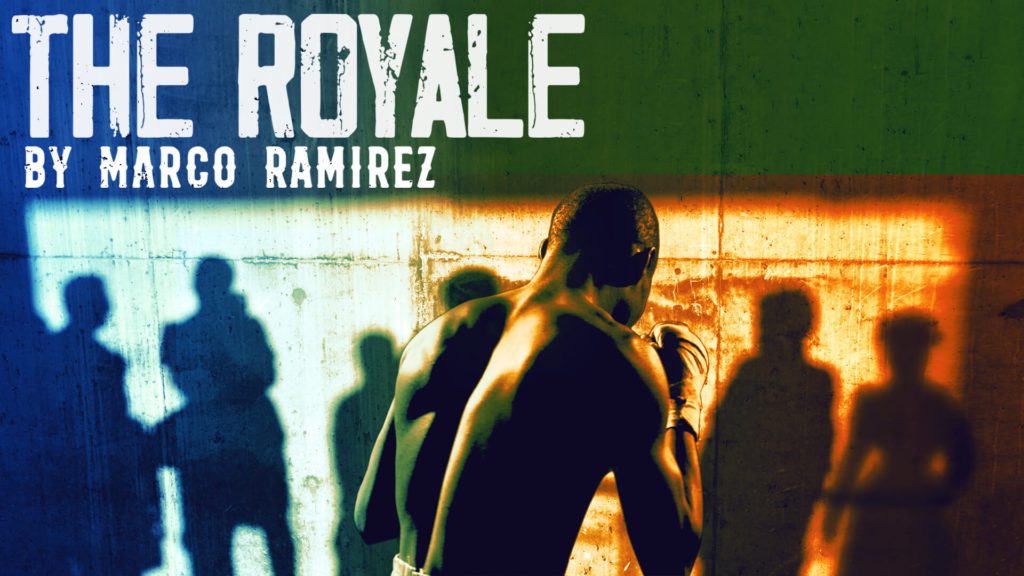 Jump to: Buy Tickets – Details – Schedule – People – Discounts – Photos – Playbill
"Ramirez avoids cliches, preferring to delve deep into his leading character's psyche and probe such complex questions as whether breaking down barriers or smashing glass ceilings can be almost an accident, and, either way, something not worth the personal cost." –Chicago Tribune
"Extraordinarily efficient! That this production never deploys real physical blows in recreating life in the ring is by no means to say that it doesn't pack a punch." –The New York Times
About the Play
In playwright Marco Ramirez's visceral, rhythmic world, it's never just about boxing. It's 1905, the era of Jim Crow, and African-American boxer Jay "The Sport" Jackson is one fight from making history against the reigning white heavyweight champion of the world. But before The Sport can step into the limelight and duke it out for the title he's dreamed of, he'll have to face the personal costs of this battle.
Inspired by the life of Jack Johnson, the first African-American heavyweight world champion, "The Royale" is "a stylized, blazingly theatrical triumph that keeps audience members on the edge of their seats" (Miami Herald). Formerly produced at Center Theatre Group and Lincoln Center Theater.
Buy Tickets
Performance Details
Venue
Carsen Theatre, Dairy Arts Center, Boulder.
COVID Precautions
BETC follows CDC, federal, state, and local guidelines with regards to COVID safety. At this time, patrons will not be required to be masked or to show proof of vaccination at the theater.
If a performance is canceled due to COVID, ticketholders will be able to exchange, refund, or donate their ticket(s) to BETC through the Dairy Arts Center at 303-444-7328.
Content Considerations
"The Royale" runs approximately 95 minutes with no intermission.
"The Royale" contains mature language and content. BETC does not offer more specific advisories about the subject matter, as sensitivities vary from person to person. If you have any questions about content or age-appropriateness, please call the BETC Office at 303-351-BETC.
Please note that we do not permit children under the age of six into the theater, and we do not permit babes-in-arms.
Schedule
Buy Tickets
Thursday, Oct. 27, 7:30 p.m. (Preview – tickets just $25!)
Friday, Oct. 28, 7:30 p.m. (Preview – tickets just $25!)
Saturday, Oct. 29, 7:30 p.m. (Opening Night)
Sunday, Oct. 30, 2 p.m.
Friday, Nov. 4, 7:30 p.m.
Saturday, Nov. 5, 2 p.m.
Saturday, Nov. 5, 7:30 p.m.
Sunday, Nov. 6, 2 p.m.
Thursday, Nov. 10, 7:30 p.m.
Friday, Nov. 11, 7:30 p.m.
Saturday, Nov. 12, 2 p.m.
Saturday, Nov. 12, 7:30 p.m.
Sunday, Nov. 13, 2 p.m.
Thursday, Nov. 17, 7:30 p.m.
Friday, Nov. 18, 7:30 p.m.
Saturday, Nov. 19, 2 p.m.
Saturday, Nov. 19, 7:30 p.m.
---
Ticket Discounts
Memberships
Become a BETC member today, and you'll get a discount subscription to BETC productions at the Dairy Arts Center and VIP access to other BETC events and parties.
Buy Membership
Student Tickets
Students can get $15 tickets online or by phone (303-444-7328) for all performances except opening nights and closing weeks. Must show a valid student ID with a ticket at the theatre.
Arts and Cultural Industries
Are you a member of a not-for-profit arts and cultural organization? Sign up for our mailing list to get exclusive discounts for arts and cultural workers. Not available for opening nights or closing weeks.
Sign Up
Group Sales
Looking to purchase tickets to a show for a group of 10 or more? BETC offers generous discounts for groups of 10+. If you are seeking special group arrangements, please call us at 303-351-2382.
Purchase tickets for your group online
10-19 tickets: 10% off · 20-29 tickets: 20% off · 30+ tickets: 30% off
A standard order fee of 10% per ticket applies to all orders.
Once you have added more than 9 tickets to your cart, the appropriate discount will be applied at checkout. All tickets will be reserved under your account for you to pick up at will-call, or mailed to you in advance. Communications about pre-event information or cancellations will be sent to you, to be forwarded to your guests.
The People of "The Royale"
Cast
Jay: Lavour Addison**
Wynton: Cris Davenport**
Nina: Lisa Young
Fish: Cameron Davis
Max: Augie Truhn
Artistic and Production Team
Written by: Marco Ramirez
Directed by: Jada Suzanne Dixon
Production Manager: Michael Morgan*
Stage Manager: Jordon Brockman*
Set Design: Tina Anderson*
Costume Design: Sarah Zinn
Lighting Design: Emily Maddox
Sound Design: CeCe Smith
*Member of BETC's Artistic Ensemble
** Appearing through an Agreement between Butterfly Effect Theatre of Colorado and Actors' Equity Association, the Union of Professional Actors and Stage Managers in the United States.
"The Royale" Supporters
Season Benefactor: Noel & Terry Hefty, Peak Asset Management
Season Benefactor: Karolynn Lestrud
Season Sustaining Sponsor: Cheri Belz, Architect & Realtor
Season Production Sponsor: Karen Steward Memorial Fund
Season Partner: Christian Vanek
Production Support: Boulder County Arts Alliance
Check out all of BETC's generous supports and partners!
Do you want to help make great theatre possible?
Put the spotlight on your business with advertising and corporate sponsorship opportunities, or else make a tax-deductible contribution.
Learn More