Perhaps the Weitzes should have a baby every year.
Stephen Weitz, who founded the Boulder Ensemble Theatre Company in 2006 with his wife, Rebecca Remaly, performed in five plays in 2012, directed three others and oversaw the Denver Center Theatre Company's high-profile, community-wide staged reading of Dustin Lance Black's "8." That was a re-enactment of the federal trial that overturned California's controversial Proposition 8, which had banned same-sex marriage.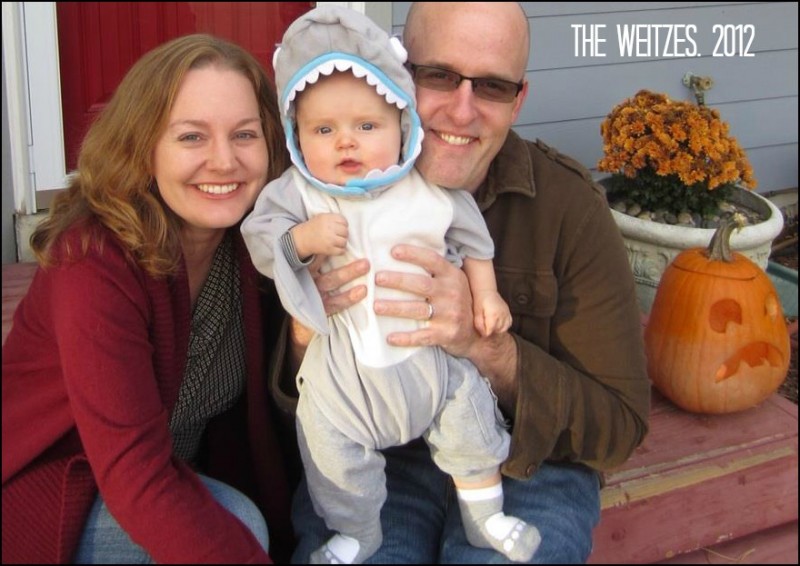 Rebecca Remaly Weitz, Stephen Weitz and son Jamison. Photo courtesy Stephen Weitz.
The variety and expanse of his work has earned Stephen Weitz CultureWest.Org's 2012 True West "Theatre Person of the Year" Award, joining previous winners Maurice LaMee, Anthony Garcia, Kathleen M. Brady, Wendy Ishii, Ed Baierlein, Chip Walton and others.
And when Weitz says he could not have done it without his wife, he really means it. Remaly is the managing director of BETC (affectionately known as "Betsy"). She manages the financials, marketing, schedules — and she had a baby in May. "She does all the heavy lifting so I can keep my eyes on the artistic prize," Weitz said.
Weitz performed in his own "Shipwrecked! An Entertainment" and directed BETC's "Gross Indecency: The Three Trials of Oscar Wilde," "How the World Began" and "The SantaLand Diaries." He also performed in "Elijah: An Adventure" for Boulder's Local Theatre; as well as the Colorado Shakespeare Festival's "Twelfth Night," "Richard III" and "Treasure Island."
But perhaps his proudest creative accomplishments of 2012 were workshopping the developing new script "And the Sun Stood Still," by Pulitzer Prize-finalist Dava Sobel (about the radical ideas of Nicolaus Copernicus); and directing "8" at the Denver Center, a reading that employed a mix of professional actors, politicians and local celebrities. "That was an important subject," Weitz said, "and an important conversation for the community to have."
Weitz, 39, has appeared in many plays for the Denver Center Theatre Company since he moved here in 2005 – first when he understudied for then-78-year-old Philip Pleasants in "King Lear." "I was 32, and all of my daughters were older than I was," Weitz joked (only he wasn't joking).
That Weitz was chosen to helm "8" by the Denver Center's Bruce Sevy and Emily Tarquin says as much about his burgeoning influence in the local theater community as any of his other accomplishments.
Stephen Weitz in the title role of "Hamlet" at the 2009 Colorado Shakespeare Festival in Boulder. Photo by Glenn Asakawa,
Weitz grew up in Bloomsberg, Pa., as did his wife. They just never met until both, coincidentally, moved out of Pennsylvania. Weitz graduated from Ithaca College in New York, earned one masters with the Alabama Shakespeare Festival and another at the University of Colorado-Boulder. He launched BETC in 2006 at a time when Boulder was probably least-deserving of its timelessly accepted reputation as a fertile and supportive home for the arts. "The Nomad Theatre had just folded, and there was a real dearth of small theater in Boulder," Weitz said, leaving one of the state's cultural hubs with just three theater companies — the Colorado Shakespeare Festival, Upstart Crow and Boulder's Dinner Theatre. Weitz saw an unfilled niche — and he filled it.
Weitz's creative interests lie in both the very old and very new, which has resulted a wide range of both serious and comic works at BETC ranging from the classic "Crime and Punishment," to this year's modern-day creationism-in-schools drama "How the World Began," to, hopefully as early as next season, the world premiere of "And the Sun Stood Still."
Since the Weitzes launched their company with $20,000 and a dream, they have increased the size of the budget tenfold, now staging five plays a year with an annual budget of around $200,000. But Weitz calls that growth slow and steady. "You can only grow as fast as you can pay for it," he said.
Perhaps coincidentally, perhaps not, the Boulder theater scene has since flourished again, with the launches of the annual Boulder International Fringe Festival and edgy new companies such as Band of Toughs, The Catamounts, Local Theatre, Abster Productions, Obscene/Courageous Theatre and the lower-case square product theatre company.
But that growth does not paint a completely accurate picture about the status of theater arts in Boulder, Weitz said. "There has been a little renaissance of contemporary, devised work," he said. But most of it is the result of maverick, raging, individual and independent artistic entrepreneurs such as David Ortolano, Emily K. Harrison, Pesha Rudnick, Amanda Berg Wilson and Abby Apple Boes.
"But we're falling behind other cities in terms of facilities and (municipal) support for these new companies," Weitz said, citing new $23 million arts centers in Parker and Lone Tree. Most every theater company that wants to perform in Boulder is necessarily based out of the pricey Dairy Center for the Arts, "and rent remains our single-biggest line-item expense," Weitz said.
"There will always be hungry artists willing to take a risk in Boulder," he said. "But you can't take them for granted." What is needed most, he said, is a larger commitment from the city so that "all this talent is being fostered into the making of a real cultural institution."
Harrison believes Weitz and his company occupy an important place in the Boulder theater scene. "One of the things I love about theater in Boulder is how different the work is," the square product theatre founder said, "and yet how well it all meshes together to form a really engaging performance landscape that values both traditional and experimental work. It's a pretty rocking scene here in Boulder, and Stephen and BETC are a valued part of it."
As an actor, Weitz has shown a broad swath of ability ranging from countless Shakespeare productions (I had the tiniest bit of fun at Weitz's expense as The Denver Post theater critic when I noted that his bleached hair in Colorado Shakes' 2009 staging of "Hamlet" made him look a dead ringer for James Van Der Beek) to a supporting role in this fall's recent world premiere of "Elijah, an Adventure," in which he played a Jew-hating German opium den operator.
"Part pragmatist and part tortured artist, Stephen embodies what it is to love theater in Colorado," said Local Theatre's Rudnick, Weitz's director on "Elijah: An Adventure." "His voracious appetite for entertainment is infectious. And he's a joy to work with, to boot."
As a producer, Weitz launched BETC with the classic "Antigone" and slid right into John Patrick Shanley's contemporarily savage "Savage in Limbo." He's been surprising — and challenging — audiences ever since. He has consistently given voice to some of the most nationally respected playwrights of the day, including Sarah Ruhl, Donald Margulies, Theresa Rebeck and Michael Hollinger. And he has smartly turned David Sedaris' comically caustic holiday monologue "The SantaLand Diaries" into a four-year holiday staple. Like The Bug Theatre before it, "SantaLand" is the kind of audience favorite that can pay a company's bills deep into the riskiest part of the season.
"There are a lot of theater companies out there," Weitz said, "and I hope the one I am responsible for is of a quality that inspires people, and makes a difference in people's lives."
A NOTE ON THE TRUE WEST AWARDS:
All True West Award winners are determined by John Moore. In addition, readers were invited to weigh in on 10 select categories to determine their "reader's choice" selections.
READER'S CHOICE VOTING FOR THEATER PERSON OF THE YEAR:
Top readers' vote-getters:
Ben Dicke, 23.7 percent
Stephen Weitz, 19 percent
Brian Freeland and Eden Lane, 14.3 percent
NOTE: The rest of the 2012 True West Award winners will be announced here on Sunday, Dec. 23. Here is a complete list of nominees.
THE BOULDER ENSEMBLE THEATRE COMPANY at a glance:
Dairy Center for the Arts, 2590 Walnut St., Boulder, 303-440-7826 orboulderensembletheatre.org
2006
"Antigone"
2007
"Danny and the Deep Blue Sea" and "Savage in Limbo"
"The Glass Menagerie"
2008
"Copenhagen"
"The Complete Works of William Shakespeare (Abridged)"
"Fat Pig"
2009
"Stop Kiss"
"Morisot Reclining"
"Complete Works of Shakespeare (Abridged)" (performed for the Colorado Shakespeare Festival)
"The Sunset Limited"
"The SantaLand Diaries"
2010
"The Clean House"
"Doubt"
"The SantaLand Diaries"
2011
"Crime and Punishment"
"An Empty Plate in the Café du Grand Boeuf" 
 "Mauritius"
"The SantaLand Diaries"
2012
Shipwrecked! An Entertainment"
"Gross Indecency: The Three Trials of Oscar Wilde"
"How the World Began"
"The SantaLand Diaries"
2013
Feb. 1-16, 2013: "Ghost Writer"
March 22-April 6, 2013: "The Other Place"
May 3-18, 2013: "Bach at Leipzig"