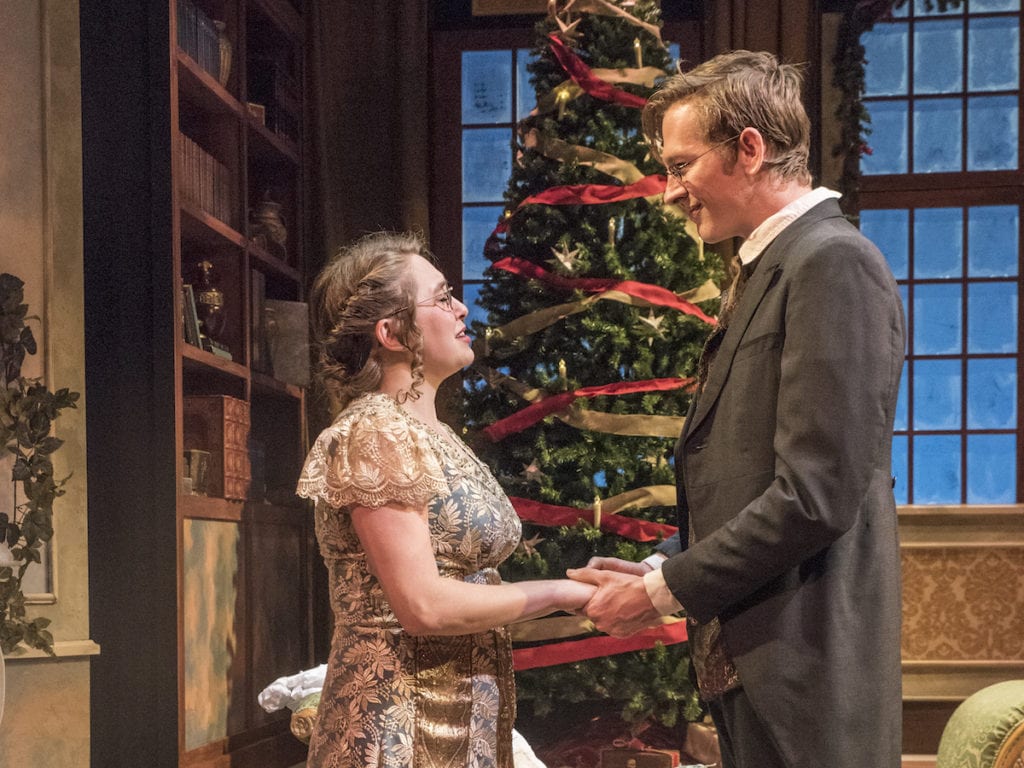 A Very Marry Christmas at Pemberley
By Juliet Wittman, for Westword Magazine  (Read the original.)
Jane Austen is having quite a year in Denver. The Arvada Center's Black Box Theatre mounted Kate Hamill's crazed, whirling and highly original version of Sense and Sensibility early in 2018, and the Boulder Ensemble Theatre Company staged the same author's Pride and Prejudice this fall — a little less wild and spirited, but still yielding plenty of laughs. Now the BETC is offering the regional premiere of Miss Bennet: Christmas at Pemberley, by Lauren Gunderson and Margo Melcon. The authors have focused on an often-overlooked character in Pride and Prejudice, bookish Mary Bennet, who's usually seen in the novel reading or offering to play the piano — though apparently she plays with so little skill and expression that no one wants to listen. Among the five Bennet sisters, she represents not much more than window dressing, a sad and obvious spinster-to-be.
I've seen a few of Gunderson's plays in the last couple of years. Some, like Book of Will, presented by the Denver Center for the Performing Arts in 2017 and The Revolutionists, which enjoyed a stunning BETC production the same year, are brilliant. Others — The Taming, Silent Sky — left me somewhat cold. Miss Bennet, which tells Mary's love story Austen-style, is at neither extreme. It's a light, pleasant, seasonal offering that I suspect you'll be seeing Christmas after Christmas from now on. This production, directed by Rick Barbour, is beautifully presented, with stunning costumes, finely detailed set and lighting, and a group of rather charming actors, working well together. The dialogue is intelligent, sometimes witty, and doesn't clash with Austen's prose. Gunderson and Melcon's work feels like an homage, a continuation of the story rather than a re-conceptualization, like Hamill's plays.
Having married at the end of Pride and Prejudice, the Darcys — Elizabeth (MacKenzie Beyer) and the arrogant Fitzwilliam (Rodney Lizcano, who is at home and authoritative in the role) — are celebrating Christmas at Pemberley, and the Bennet family is invited. This includes Mary (Adeline Mann); frivolous Lydia (Shannon Altner), the sister who shamed the family by running off with a feckless, handsome soldier; and Arthur de Bourgh (a vulnerable, funny Ben Griffin), who's inherited the wealthy estate of Lady Catherine de Bourgh at Rosings, thus putting the livelihood and welfare of Catherine de Bourgh's daughter, Anne (Rachel Darden), at risk. We know Anne from the novel as a silent, sickly girl, but now she's turned out to be an exact copy of her dragon mother, who, before she died, decreed that Anne and Arthur must marry. Which is problematic, because no sooner has erudite and awkwardly sweet Arthur arrived at Pemberley than he's fallen for Mary. There's not much tension in the script, since you know immediately that he and Mary will end up together, but the scenes they share are funny and touching.
Tension isn't the only thing that's missing. Most of the characters aren't given much depth or detail. Remember the sparring between Elizabeth and Darcy in the original novel? Surely marriage wouldn't have dampened all that fighting spirit and they'd still enjoy matching wits, but in Miss Bennet they're just placidly devoted. The only point of dissension comes when Lizzy brings a living Christmas tree into the house, a custom that was new at the time. Bingley (Jihad Milhem) and his now-pregnant Jane (a quietly delightful Eva Balistrieri) are equally adoring, though he's presented as a bit of a nitwit. This being a somewhat feminist play, the men tend to defer to the women in all things important, and bad people can improbably become good if shown just a gesture or two of goodwill. Still, as a feminist, I did wonder now and then why the script, while it does champion free choice, never questions the idea that love solves all problems, or asks whether Mary really needs saving. Perhaps she'd have been happy living a quiet life with her books and music. Perhaps she'd have found a way to travel. Or just maybe she'd have become a clear-eyed and quietly satirical writer.