April 6-29 at the Dairy Arts Center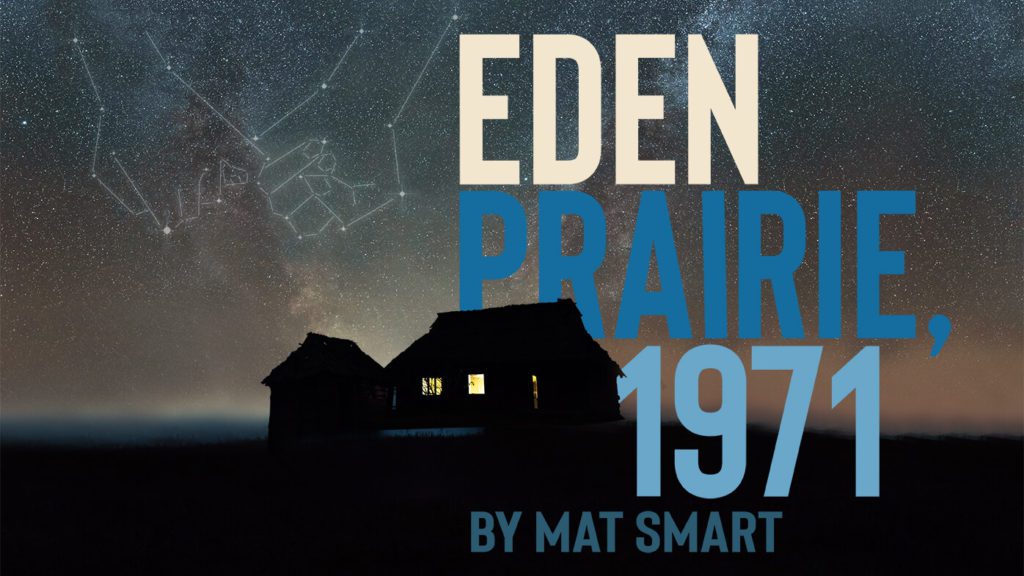 A National New Play Network Rolling World Premiere
About the Play
On the night Apollo 15 lands on the moon, a draft dodger steals home from Canada to Eden Prairie, Minnesota. He risks arrest to deliver a message to a young woman from his high school class. This beautifully etched play challenges notions of our own bravery and the true cost of freedom. Join BETC for this bittersweet romance in the heart of America.
"Eden Prairie, 1971" is produced at Butterfly Effect Theatre of Colorado as part of a National New Play Network Rolling World Premiere. Other Partner Theaters are Riverside Theatre (IA) and New Jersey Repertory Company (NJ). For more information, please visit nnpn.org.
Sign Up for Updates
Schedule
April 6-29
Venue
Grace Gamm Theatre, Dairy Arts Center, Boulder
Ticketing
Single tickets go on sale June 30, 2022! Remind Me
Memberships
Become a BETC member today, and you'll get a discount subscription to BETC productions at the Dairy Arts Center and VIP access to other BETC events and parties.
Buy Membership
Single Ticket Discounts
Student Tickets
Students can get $15 tickets online or by phone (303-444-7328) for all performances except opening nights and closing weeks. Must show a valid student ID with a ticket at the theatre.
Arts and Cultural Industries
Are you a member of a not-for-profit arts and cultural organization? Sign up for our mailing list to get exclusive discounts for arts and cultural workers. Not available for opening nights or closing weeks.
Sign Up
Group Sales
Looking to purchase tickets to a show for a group of 10 or more? BETC offers generous discounts for groups of 10+. If you are seeking special group arrangements, please call us at 303-351-2382.
Purchase tickets for your group online
10-19 tickets: 10% off · 20-29 tickets: 20% off · 30+ tickets: 30% off
A standard order fee of 10% per ticket applies to all orders.
Once you have added more than 9 tickets to your cart, the appropriate discount will be applied at checkout. All tickets will be reserved under your account for you to pick up at will-call, or mailed to you in advance. Communications about pre-event information or cancellations will be sent to you, to be forwarded to your guests.
Do you want to help make great theatre possible?
Put the spotlight on your business with advertising and corporate sponsorship opportunities, or else make a tax-deductible contribution.
Learn More