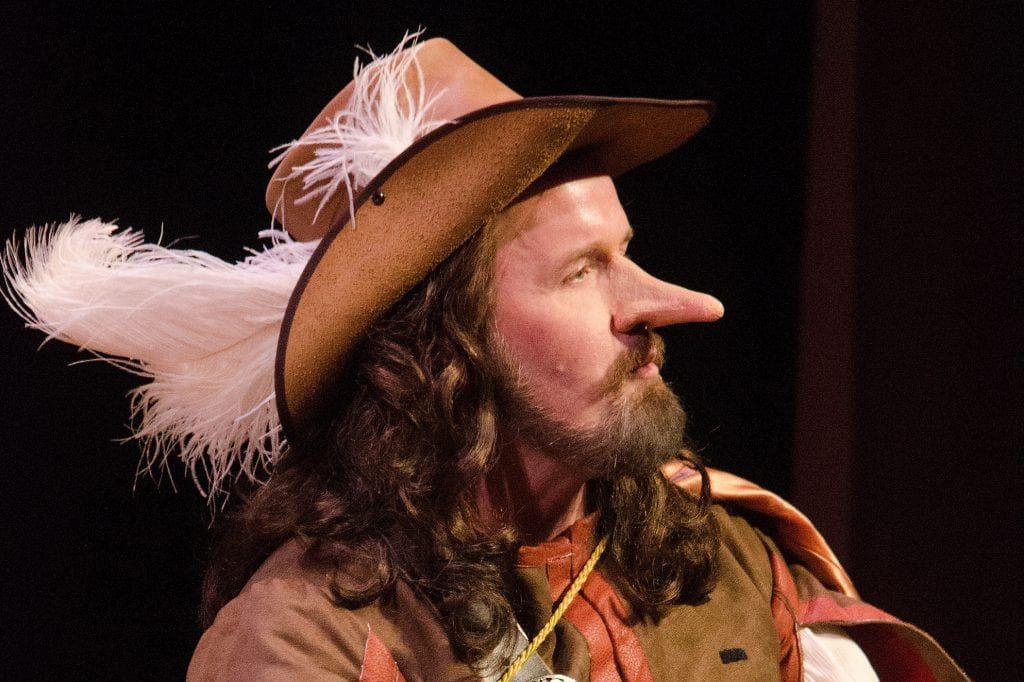 By Bob Bows (Read the original.)
Cyrano de Bergerac is a man for the ages. In Edmond Rostand's original play, he is a master of swordplay, wordplay, playwrighting, poetry, and philosophy. He is able to whisk away 100 attackers while choreographing the use of multiple swords and composing a Shakespearean style sonnet. Panache, you say! Yes! That word was taken into the English language directly from Rostand's play.
Cyrano was also known for his large nose. He would joke about it—
This nose, which shows up a full
Ten minutes before the rest of me,
Prevents me from being loved by even the
Plainest woman. And I have to fall
For the most exquisite.
—and he would war about it—carving up anyone so rash as to reference the epic probiscus. In Cyrano's mind, it is his nose that stands between him and the love of his life, Roxane. He can write the most lyrical and romantic letters to her, even praise her extempore (if he's standing in the dark, leaving her under the impression that it is someone else). But to her face, alas, Cyrano falters:
What hope can I have with this protuberance?
I have no illusions. Granted,
From time to time, I let down my guard:
In a garden, under a full spring moon,
Where April's fragrance fills the air
And thrills this cursed nose of mine,
I'll glimpse a lady's sparkling eyes
In a moonbeam as she passes by me,
Arm-in-arm with her cavalier,
Both of them dreaming as they walk.
And for that moment, I'll dream too,
Of a moonlit promenade like that,
A dainty arm encircling mine …
And I exult, forget myself,
Enraptured by love's siren call —
And then I glimpse the shadow of my
Profile on the garden wall.
For Stephen Weitz, who performs the title role, this is a milestone, having wanted to play Cyrano since he was nineteen, a couple of decades ago, and it's apparent in all the nuances and panache that he brings to the man and the myth. Translator Michael Hollinger's (Ghost-Writer, Opus) poetry and prose roll off Weitz's tongue as if he were taking joy in composing these lovely words on the spot, just as we imagine the larger-than-life Cyrano does it. And wowed we are!
Add Geoffrey Kent's glorious fight direction, particularly as Weitz fends off the 100-man assault, and we have a tale as bold as Robin Hood, as idealistic as Don Quixote, as eloquent as Hamlet, as deductive as Sherlock Holmes, and magestic as King Arthur.
Hollinger transforms Rostand's Le Bret (Logan Ernsthal) into a narrator, as well as Cyrano's confidant and comrade-in-arms. Ernsthal's gravelly melodiousness and gravity of character deliver the heft and grand scope of the story.
There is an early scene that sets up the heartbreak of this great unrequitted romance, where Cyrano gets a note from Roxane in which she asks for a tête-à-tête over a personal matter. Cyrano's fondest hope is that she will confide her love for him; but instead, she asks him to protect Christian (John DiAntonio), with whom she is in love.
For a lesser man, such as De Guiche (Brian Shea), this is a moral problem, but for Cyrano, the ultimate chivalrist, there is no question that he will do everything in his power to make Roxane happy. And so, much to the shock of his comrades, who expect Cyrano to run his blade through Christian, after the young man's nose insults, Cyrano makes friends and protects Christian.
Though we assume Christian vacuous, based on his early behavior—that is, his willingness to let Cyrano write and speak for him—he later proves his honor with the ultimate self-sacrifice. Even then, Cyrano is unwilling to tell Roxane the truth. Whereas, De Guiche, who is also a suitor, seeks to facilitate Christian's death on the battle field to have Roxane for himself.
DiAntonio moves through this arc—from young, impetuous, and naive to insightful and morally righteous—with aplomb. Shea deftly navigates a rougher road, from covetousness to bitterness, in a delicious villainous manner.
When De Guiche comes to meeting hall of the Gascony Guards, where Cyrano and his fellow swordsmen are presided over by Le Bret, to find the fellow that felled a hundred men the previous night and ask him to join his ranks at a handsome salary, we see, full force, the independent code by which Cyrano lives, when he explains to Le Bret why he turned down De Guiche:
Then tell me, what would you have me do?
Seek out a powerful patron and
Advance myself through creeping and cunning
Instead of by talent and force of will?
No, thank you.
Bend over backwards, forwards, sideways,
To prove the absence of my spine?
No, thank you.
Calculate, machinate, live in fear?
Scratch others' backs so mine might be scratched?
Practice bowing, flattering, fawning?
No! Sorry – thanks but no thanks!
But …
To sing, dream, laugh, come and
Go as I please, be alone, be free;
To keep a keen eye and a vibrant voice;
To throw myself in the thick of things,
Draw steel over something someone's said,
Or set my pen to paper instead;
To never write a word unless it springs
From the honest soil of an open heart;
Then say to myself: "Be satisfied
With this simple harvest, however humble,
For it was gathered in your own garden!"
Indeed, after being warned by De Guiche from tilting at windmills, Cyrano fully embraces the impossible dream of Don Quixote.
And if ever there was an impossible dream for Cyrano, it is the beautiful, intelligent, and cultured Roxane (Adrian Egolf). With a lightly-flavored French accent, impeccable carriage, flashing eyes, and oh so savvy manner, Egolf underscores all that Cyrano and others see in one of the greatest love interests in all of literature.
As Cyrano speaks with Roxane, his muse, for the last time, he reads, then recites from memory, a quick note he wrote for Christian to send to Roxane before a major battle:
                                          … Beloved,
Our long wait is over; the day has come.
And so this letter may be my last—
Less eloquent, perhaps, than those that
Preceded it these weeks and months—
Yet for its simplicity, no less true.
Indeed, since it contains a farewell,
I feel compelled to reveal my soul,
As I revealed it beneath your window
Once upon a fragrant night.
For I fear never again will my
Enraptured eyes be able to kiss
Those fleeting gestures I know so well:
The way you chew your lip in thought,
Or touch your hand to your heart when moved,
Or push a stray lock of hair from your forehead,
Tucking it back behind your ear."
"My dear, my darling, dearest treasure,
My love! My heart has ever belonged to you,
Will ever be yours, beyond this world even,
There beside you as you walk,
And sleep, and pray, and gaze out a window …
He never finishes, of course, because …
We will not say how this tale ends—as there have been a few twists through the years, depending on the liberty taken by the translator/adaptor—but Hollinger's thoughtful, contemporary translation (read interview here) and elegant and economical co-adaptation with Aaron Posner brings us a fresh, transcendent perspective on Rostand's masterpiece.
Great work from the ensemble—Casey Andree (Ragueneau), Benaiah Anderson (De Valvert), Michael Bouchard (Liginere), and Sammie Joe Kinnett (Desiree).
Boulder Ensemble Theatre Company's presentation of Cyrano, directed by Rebecca Remaly, closed on April 30th.