November 2-12 at Millibo Art Theatre (Colorado Springs)
Opening Night: Thursday, November 2
November 22-26 at the Dairy Arts Center
Opening Night: Wednesday, November 22
* Five Shows Only – A Special Engagement *
2023 Henry Award Winner, Best Actress – Jessica Robblee
BETC sheds new light on the radiant rebel that was and is the poet Emily Dickinson.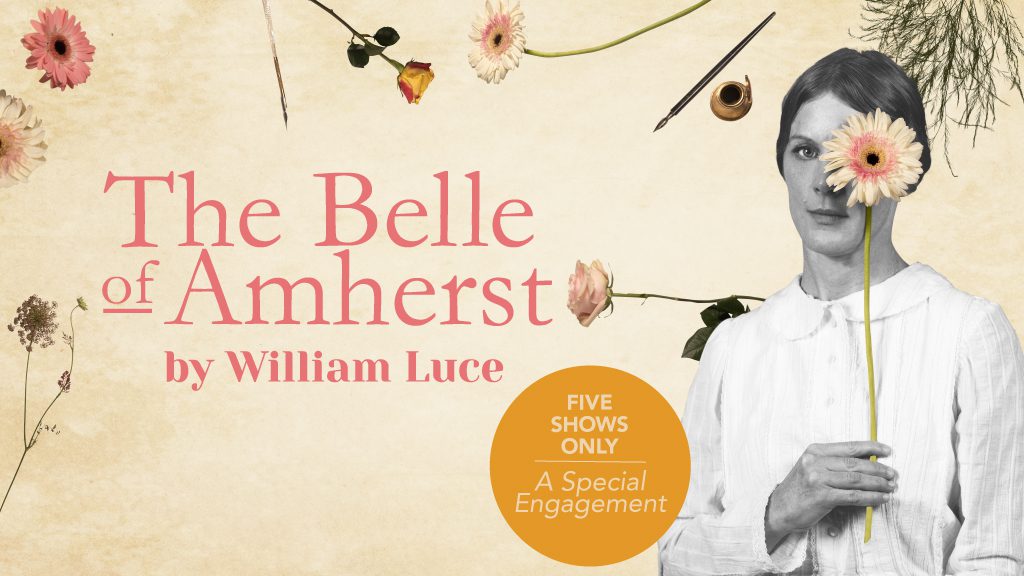 Jump to: Buy Tickets – Details – Schedule – People – Discounts
About the Play
She rarely left her bedroom.
She requested her papers be burned.
And yet, Emily Dickinson is widely considered one of the English-speaking world's greatest poets.
BETC's production of the one-woman show The Belle of Amherst invites you into the mystery of the reclusive woman who wrote those poems you read in high school. She is a woman of magnitude, humor, and feeling– a woman who defied conventional society's mores in order to find freedom through her pen.
Award-winning Playwright Luce writes in his 1976 Author's Notes for The Belle of Amherst:
"The essential Emily of my play is secretly saying to the audience:
'Pardon my insanity,
Pardon my jubilation to Nature, my terror of midnight,
my childlike wonder at love, my white renunciation.
Nothing more do I ask than to share with you the ecstasy and sacrament of my life.'
Buy a Subscription
---
Performance Details
Venue
Millibo Art Theatre, Colorado Springs
Grace Gamm Theater, Dairy Arts Center, Boulder
COVID Precautions
BETC follows CDC, federal, state, and local guidelines with regards to COVID safety. At this time, patrons will not be required to be masked or to show proof of vaccination at the theater.
If a performance is canceled due to COVID, ticketholders will be able to exchange, refund, or donate their ticket(s) to BETC through the Dairy Arts Center at 303-444-7328.
Content Considerations
"The Belle of Amherst" runs approximately 85 minutes without intermission.
"The Belle of Amherst" is best suited for audiences aged 12 and above. BETC does not offer more specific advisories about the subject matter, as sensitivities vary from person to person. If you have any questions about content or age-appropriateness, please call the BETC Office at 303-351-BETC.
Please note that we do not permit children under the age of six into the theater, and we do not permit babes-in-arms.
---
Schedule
Millibo Art Theatre, Colorado Springs

Thursday, November 2
Friday, November 3
Saturday, November 4
Sunday, November 5
Thursday, November 9
Friday, November 10
Saturday, November 11
Sunday, November 12
Dairy Arts Center, Boulder
Wednesday, November 22, 7:30 p.m. (Opening Night)
Friday, November 24, 7:30 p.m
Saturday, November 25, 2:00 p.m.
Saturday, November 25, 7:30 p.m.
Sunday, November 26, 2:00 p.m.
We invite you to stay for post-show conversations with the production artists on Opening Night 11/22, and the Sunday matinee 11/26!
---
Tickets & Discounts
Season Subscriptions
Become a BETC season subscriber today, and you'll get a discount subscription to BETC productions at the Dairy Arts Center and VIP access to other BETC events and parties.
Single Tickets
Single tickets for the 11/22-11/26 run in Boulder are on sale through the Dairy Arts Center.
Tickets for the 11/2-11/12 run at the Millibo Art Theatre and will go on sale closer to the event, and will be available through the venue directly.
Student Tickets
Students can get $15 tickets online or by phone (303-444-7328) for all performances except opening nights and closing weeks. Must show a valid student ID with a ticket at the theatre.
Arts and Cultural Industries
Are you a member of a not-for-profit arts and cultural organization? Sign up for our mailing list to get exclusive discounts for arts and cultural workers. Not available for opening nights or closing weeks.
Group Sales
Looking to purchase tickets to a show for a group of 10 or more? BETC offers generous discounts for groups of 10+. If you are seeking special group arrangements, please call us at 303-351-2382.
Purchase tickets for your group online
Due to the licensing agreement for this particular production, the group sales discount for 10+ tickets will be 8%.
A standard order fee of 13% per ticket applies to all orders.
Once you have added more than 9 tickets to your cart, the appropriate discount will be applied at checkout. All tickets will be reserved under your account for you to pick up at will-call, or mailed to you in advance. Communications about pre-event information or cancellations will be sent to you, to be forwarded to your guests.
---
The People of "The Belle of Amherst"
Cast
Emily Dickinson: Jessica Robblee
2023 Henry Award Winner, Best Actress – Jessica Robblee
Artistic and Production Team
Director: Mark Ragan
---
"The Belle of Amherst" Supporters
Season Production Sponsor: Karen Steward Memorial Fund
Production Partner: Diana & Mike Kinsey
Check out all of BETC's generous supports and partners!
Do you want to help make great theatre possible?
Put the spotlight on your business with advertising and corporate sponsorship opportunities, or else make a tax-deductible contribution.