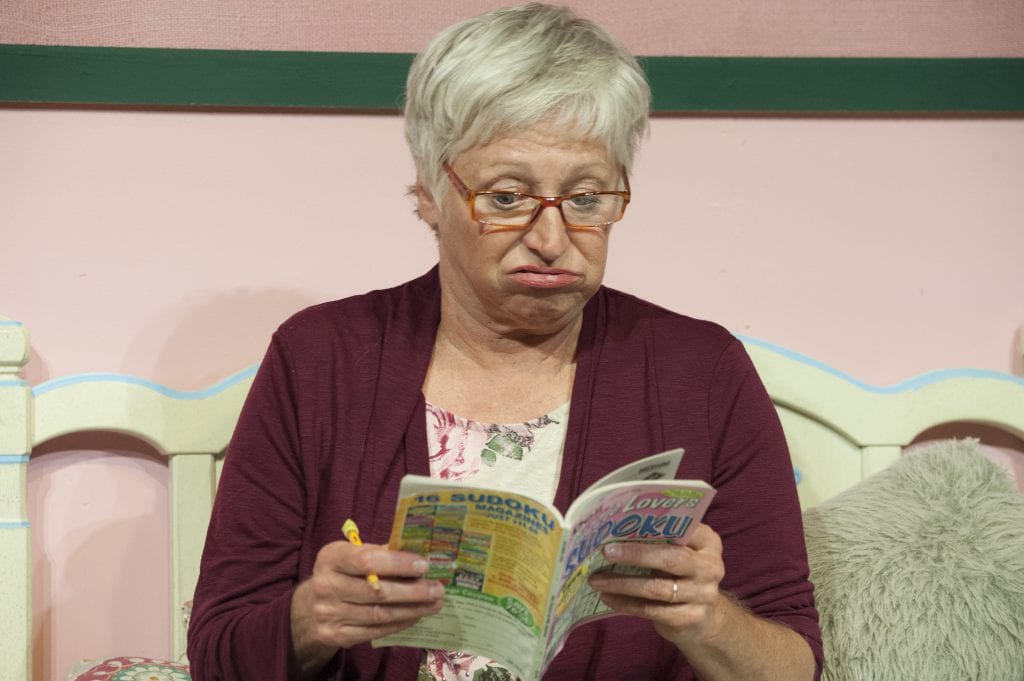 By Juliet Wittman, Westword Magazine (Read the original.)
The mood was celebratory at the opening of the Boulder Ensemble Theatre Company's Ripcord, the first show of the company's eleventh season, and also the first at the Dairy Arts Center after the building's year-long renovation. Over the past twelve months, BETC has performed in the Boulder Chamber of Commerce building, the Lone Tree Arts Center and the University of Colorado's Fiske Planetarium. Now audience members milled in the Dairy's airy, enlarged lobby area, waiting for the doors to open to the improved, 116-seat Grace Gamm Theater. Down the hall, in the smaller Carsen, the Catamounts prepared for their own opening night, for Lauren Gunderson's feminist-satiric-political The Taming. (There's a third and larger theater, the Gordon Gamm, which wasn't in use that evening.) Delighted to be back at the Dairy, where BETC got its start and where its identity has unfolded play by play, artistic director Stephen Weitz stood outside the Grace Gamm beaming as he welcomed newcomers and season subscribers alike.
For this crucial evening, BETC had chosen a slight but charming script by David Lindsay-Abaire. We've seen a lot of Lindsay-Abaire's work in this area, some of his plays more than once. Our acquaintance with the playwright began with his dark, tricky and almost surreal comedies: Fuddy Mears, about a woman who wakes up daily with no memory of who she is and is absconded by a limping man; Kimberly Akimbo, about a young girl trapped in the body of an elderly woman because of a disease that causes premature aging; Wonder of the World, in which a wife leaves her husband after discovering his decapitated Barbie dolls. Then came something quite different: Curious Theatre's Denver premiere of Rabbit Hole, a naturalistic, understated play saturated with the deep and terrible sadness that follows the death of a child — and after that, Good People, which explores the struggle of working people in Boston's Southie neighborhood. Lindsay-Abaire is also the author of Shrek: the Musical. That's not a résumé that would lead you to expect Ripcord, a sort of female Odd Couple featuring two elderly women in a senior-living facility. First produced off-Broadway in 2015, this is only the play's second professional outing.
As Ripcord opens, cantankerous Abby Binder is talking with aide Scotty about her desire to rid herself of her garrulous roommate and have the room to herself. That room, as designed by Tina Anderson and Ron Mueller, could have come right out of a Beatrix Potter children's book: pink walls, softly muted green towels, cozy white beds and prints of hunting scenes with hounds and red-coated hunters on the walls. For the first few minutes, the dialogue feels muted and fuzzy-edged, too, as if you'd wandered into a pleasantly low-key and unchallenging sitcom.
We soon meet the room's second tenant, Marilyn Dunne, who is as cheerful and kindly as Abby is sour. After some bickering, the women place a bet. Abby professes never to be afraid of anything, while Marilyn boasts that she never gets angry. If Abby can make Marilyn angry, they agree that she'll vacate the room. If Marilyn scares Abby, Marilyn gets the bed by the window overlooking the park. A series of pranks follows, including a skydiving caper and a haunted house (at which point we gain a full appreciation of the Grace Gamm's new tech system). As the women spar, we learn that neither is as unrufflable as she professes to be. Their pasts aren't exactly pastel pink, either; there's family estrangement and domestic violence involved. We see more anger in Marilyn than she'll ever admit to, and more fear in Abby. The pranks aren't entirely cute and harmless; they have an edge, sometimes a cruel one. But still, we're not descending into black comedy here.
Michael Bouchard makes Scotty real and sympathetic, with just a touch of impish charm, and Josh Hartwell adds depth and feeling to the role of Benjamin, whose place in the drama we won't reveal here. Best of all, the lead roles in this strong production are played by two seasoned, expert actors: Billie McBride as waspish Abby and Anne Oberbroeckling as cheerfully chattering Marilyn. McBride could be a little nastier and Oberbroeckling a touch more irritating, but overall their performances are absorbing, bringing life and texture to a sweet-natured and very funny play that proves a fine welcome-home gift for the Dairy.