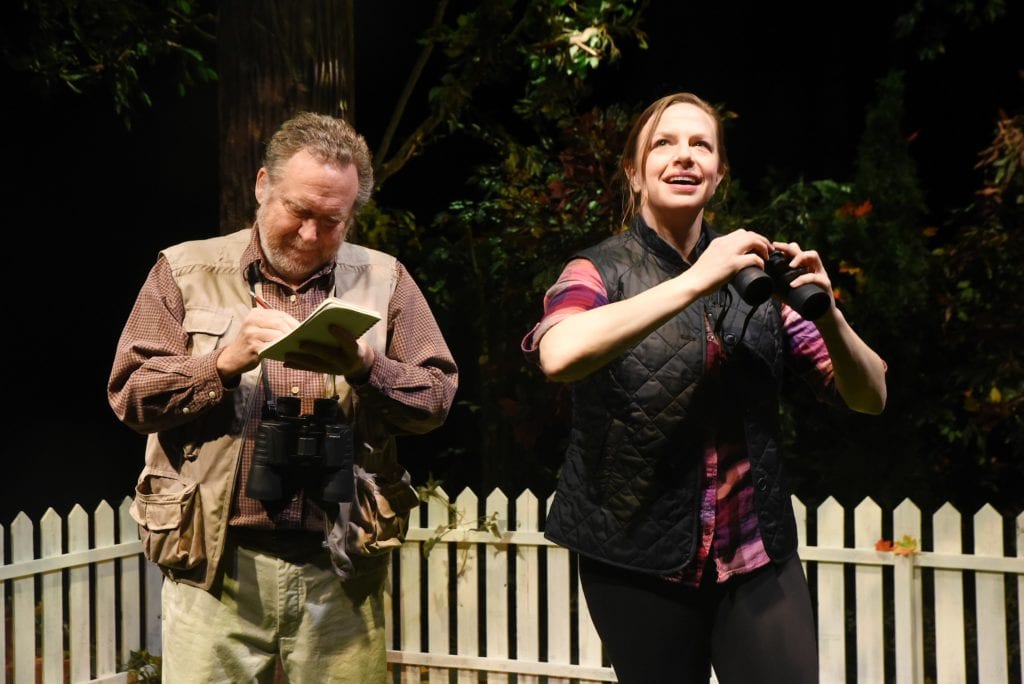 Review: BETC's Birds of North America
by Gabrielle DiCristofaro (Read the original.)
"Not everyone gets to pick the jokes they tell." Caitlyn, Birds of North America
Boulder Ensemble Theater Company's 12th season is off to an outstanding and emotional start. Following the powerfully feminist The Revolutionists comes the world premier of the family drama Birds of North America. Performed in the Grace Gamm Theater at the Dairy Arts Center, this play runs from Oct. 19-Nov. 21. Written by Anna Moench and directed by BETC's Producing Artistic Director, Stephen Weitz, this production will move anyone through the ebbs and flows of family life.
Moench is BETC's last season's Generations new play competition winner. Her piece was picked from over 100 submission nationwide for a new play development program, which brought her to Boulder for weeklong residency.
Her play Birds of North America is about a male scientist and birdwatcher in his 50s named John (Chris Kendall), and his 30-year-old daughter, Caitlyn (Lindsey Pierce), who works as a copyeditor for a conservative news outlet. The entirety of the play takes place in John's Baltimore backyard over the course of 10 years, while the two of them birdwatch. The audience is pushed and pulled through potential happiness, to deep sadness, from the characters' failures with their work, to the deteriorating health of family members, to fundamental, moral and ethical differences in belief systems.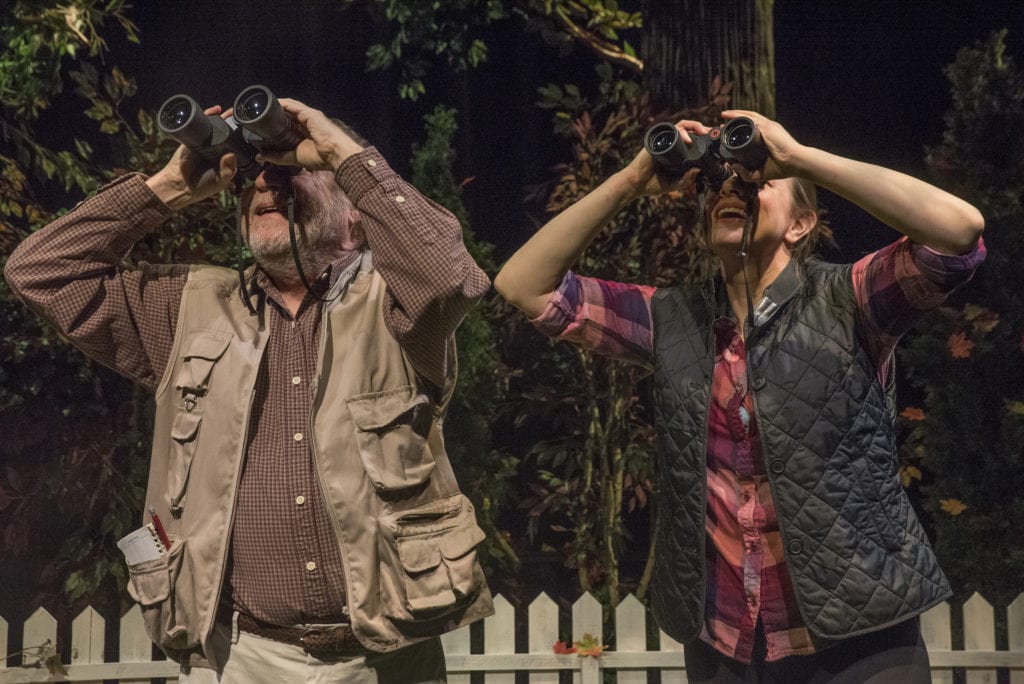 "Throughout my lifetime, climate change has been visible all around me," Moench says in BETC's press release for the play. "It's not unlike the experience of watching a loved one age and die. That was my way into the material, and why my 'climate change play' is a family drama."
While superficially Birds is a family drama, there are apparent themes of climate change, and the changing migratory patterns of certain birds, representing the changes these two characters go through. Although they are argumentative and disagree at times, the language they use with each other shows their bond as parent and child. John, as a scientist, can be cynical, talking about the impending apocalypse, and the ways in which family members should act with each other. Caitlyn, as a literary person, is more emotional. There is a battle between John, trying to create medicines, but with very little income, and Caitlyn who John calls a mercenary for making unethical employment decision. While we are never sure if Caitlyn's political leanings are towards the right, both the audience and John are left wondering what she would do for money.
It is also interesting to note that John works on two types of medicines. First, a medicine that would "Enable women to protect themselves against HIV." This is relevant as Baltimore has the 10th highest HIV rate in the country. Next, John attempts to make a vaccine for the Zika virus, after he and Caitlyn discuss a trip to South America that Caitlyn doesn't want to go on because of a concern for the virus. John may not always show emotion, but through his work, it becomes obvious that he cares about women in the world. In these ways, Moench has written this script to be both timely and relevant.
The set, designed by Tina Anderson, is quite detailed and an undeniably impressive display. The audience is quick to feel, through the closeness of the set, the potential openness of what this property would actually look like. The towering trees, along with a tight, white picket fence, makes for an intimate Baltimore backyard setting. Katie Gruenhagen's lighting design is as convincing as the script. Throughout the play, it relays an awareness for the passage of time, while also illuminating the leaves in the bushes and on the ground, emphasizing specific emotional states. Pairing these with Jason Ducat's sound design, the audience was privy to what John and Caitlyn felt through each major transition in their lives. 
This play, in all its sadness, will leave you thinking of your own family, in whatever dynamic that may exist.The most telling scene in this play comes when Caitlyn finds a baby bird on the ground and wants to put it back in its nest. John tells her not fuss with it; not to fuss with nature. The parents will figure it out. This leads to an argument much deeper than a grounded baby bird. Caitlyn shows a nurturing side, while John thinks nature should take its course. After John takes a low blow, Caitlyn's reaction is so shocking, allegiances with either character become uncertain.
Bird lovers look out for "Birders Weekend" from Oct. 27-29. On Oct. 27 after the performance, Boulder Audubon expert Steve Jones will have a conversation on conservation. On Oct. 28 at 9 a.m., Boulder Audubon teen naturalist, Luke Pheneger, will lead a birding nature walk at Sawhill and Walden Ponds. And on Oct. 29, after the 2 p.m. performance, a conversation will be held with Audubon Society of Greater Denver's Karl Brummert and Kate Hogan, focusing on what people can do locally to help conservation efforts.